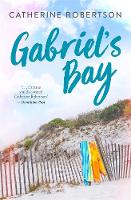 We are asking quick questions of writers and thinkers coming to the WORD Christchurch Festival 2018 (Wednesday 29 August to Sunday 2 September).
Catherine Robertson's five novels have all been No. 1 New Zealand best-sellers. She reviews fiction for the New Zealand Listener and is a regular guest on RNZ. She has appeared at and chaired sessions for several writers festivals.
What are you looking forward to doing in Christchurch?
Visiting the art gallery again. My art collection started with postcards from the gift shop.
What do you think about libraries?
Libraries are a bastion against ignorance and a gateway to learning, inspiration and joy. They're the most powerful places on earth.
What would be your desert island book?
Roget's Thesaurus, because I can create infinite stories from its contents.
Share a surprising fact about yourself.
I can recite several AA Milne poems, including The Knight Whose Armour Didn't Squeak.
Catherine Robertson's sessions at WORD Christchurch Festival 2018
High tea and tales with Nicky Pellegrino Thursday 30 August 2pm
Motherhood Saturday 1 September 11.30am
Let Love in Saturday 1 September 2.30pm