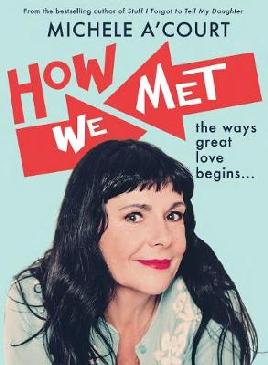 We are asking quick questions of writers and thinkers coming to the WORD Christchurch Festival 2018 (Wednesday 29 August to Sunday 2 September).
Winner of Female Comedian of the Decade in 2010, Michèle A'Court is a stand-up comedian, writer and social commentator. She has written two books: Stuff I Forgot To Tell My Daughter (2015) and How We Met (2018).
What are you looking forward to doing in Christchurch?
Hanging out with writers and the people who read their books. Writers are delightful people – they love words and they love wine, which are two of my Top Five Favourite Things. And people who read have curious minds and excellent manners. Also hoping for clear skies and crisp days.
What do you think about libraries?
Every time I walk into a library, I feel like I'm rich. You can have anything you want without having to worry about how much it costs.
What would be your desert island book?
Everything ever written by Joan Didion – essays, memoir, fiction. I love the way she uses words, the way she sees the world, and captures particular moments in modern history.
Share a surprising fact about yourself.
I own a selection of Minnie Mouse ears – daywear, formal, Christmas and other special occasions. I fully accept that not everyone will find this fact surprising.
Michèle A'Court's sessions at WORD Christchurch Festival 2018
Tom Scott: Drawn out Saturday 1 September 11.30am
Let love in Saturday 1 September 2.30pm
The Great WORD Debate Saturday 1 September 8pm SOLD OUT