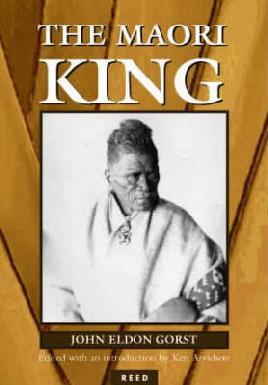 When Pōtatau Te Wherowhero, Paramount chief of the Waikato tribes was announced as the first Māori King in 1858, the foundations were laid. All succeeding kings and the present-day king are the descendants of this Waikato chief.
This page links to a selection of books and articles on Koroneihana, the coronation of the Māori Kings and Queen, and Kīngitanga.
Koroneihana and Kīngitanga
Today Te Koroneihana is a calling together of all Māori to discuss important issues, as well as the bringing together of a continuous and highly regarded genealogy. It is an open invitation to visitors from Aotearoa and throughout the world, to join and to celebrate the unique and important customs and traditions of Kīngitanga, and of Māori. Hundreds flock to Turangawaewae Marae in Ngaruawahia each year to take part in a huge cultural and sporting festival.
Kīngitanga stands for the love we bear for one another. It tells when we are right and what is right. It stands for Mana Motuhake, the importance of our faith in ourselves under God. It draws us back, always to have respect for orderly conduct according to both Māori custom and the law of the land which came with the Treaty that was signed by two people during the reign of Queen Victoria.
Part of a speech made by Te Arikinui Dame Te Atairangikaahu at the 35th coronation anniversary celebrations at Turangawaewae published in Mana: the Māori news magazine for all New Zealanders Jun/Jul 2001; 40:52-53
Search our catalogue
Coronation timeline
Articles in Mana
An article written Derek Fox describing the atmosphere at the 2006 coronation celebrations at Turangawaewae where more than 7000 people crammed the forecourt of the wharenui 'Mahinaarangi' to hear Te Arikinui Dame Te Atairangi Kaahu give her address on the final day of Te Koroneihana.
An interview with Queen Te Atairangikaahu by Derek Fox. Pages 54-55 "The ways of our Tupuna" contains excerpts from two of her speeches.
An interview with James Ritchie by Derek Fox. This interview outlines the history of the King Movement.
Kīngitanga came into being in 1858, largely because Māori didn't want to keep losing their lands. This is an account of the birth of Kīngitanga.
An excerpt from the speech made in May 2001 by Te Atairangikaahu at the 35th coronation anniversary celebrations.