The Christchurch City Libraries Bindery is responsible for the maintenance, repair and protection of library stock and also offers a comprehensive range of services to the public. The bindery has been operating since 1952.
Located at 180 Smith Street on the corner with Linwood Avenue, the Bindery is open between 8am and 4:30pm, Monday to Friday. Contact the team on 941 6641 or by emailing LibraryBindery@ccc.govt.nz.
Our services include:
The Bindery also sells some bookbinding material.
Binding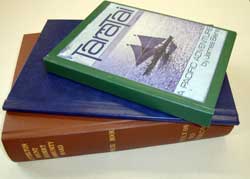 There are several options available for the binding of new material that is in loose sheets, or if the type of binding needs changing on existing books (i.e. paperback to hard back). It is best that the Bindery Team view the items and discuss your needs before suggestions can be made for options and prices.
Normally this work can be completed within ten working days.
Covering and strengthening
Paperbacks and magazines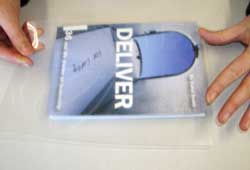 A clear, semi-rigid self adhesive covering is applied to front and back covers plus the spine along with reinforced tape applied to the hinges, then trimmed all around. This treatment protects and strengthens the books and is not reversible.
Cost: Single books $7.50 each
Time: up to five while you wait, over five books 24 hours.
For the DIY person, the plastic covering can be purchased from $2 per sheet depending on size, spine tape from $12 per roll and filament tape $10 per roll.
Dust jackets
There is a range of removable plastic dust jackets in sizes to suit most books that protect the original dust jackets. Please note: these are only suitable for books that already have dust jackets and cannot be put on hard covers.
Cost: $5 each.
Time: Usually while you wait.
Repairs
Old or damaged books can be repaired or mended by the Bindery by a variety of methods that will prolong their life and protect them from further deterioration.
The treatment that can be given varies greatly from item to item, and can be dependent on the level of damage and what the customer wishes to do with the book. A well-used recent publication would receive a different treatment than an old family bible that needs some restorative work and protection.
The books will have to be assessed by the Bindery before prices can be given and work generally takes about ten working days to complete.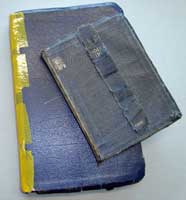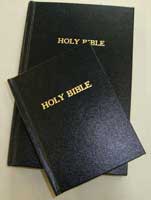 Protecting special items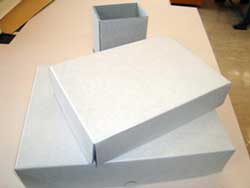 Sometimes it is best that old and valuable items are given greater protection. The Bindery can custom-make enclosures from museum-grade corrugated board to the specific measurements of each item. This will neatly protect them. These enclosures can also be used to store valuable memorabilia, wedding dresses and multiple postcards and letters.
Cost: from $35.
Time: Normally one week.