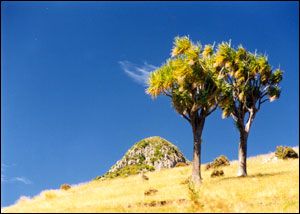 Te Pōhue is commonly known as The Monument.
It is the rocky crag that stands on the ridge between Purau and Koukourarata on the sloping shoulders of Te Ahu Pātiki.
Te Pōhue is one of the legendary homes of the patupaiarehe (fairies) who made their pā around many of the craggy peaks atop the hills of Whakaraupō (Lyttelton Harbour) and the rest of Horomaka (Banks Peninsula).
The patupaiarehe were said to be small, fair people who shunned the daylight. They commonly emerged only when the fogs descended and could be detected by their singing and playing of wooden or bone flutes.
Source