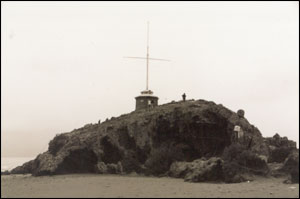 Tuawera is the Māori name for the large imposing rock that sprawls silently on the beach at Sumner.
Tuawera figuratively means cut down as if by fire and refers to the many people who died from eating the flesh of a great whale that was stranded on the shore.
It is said that the rock represents the carcass of that deadly whale which was beached by means of black magic.
The Story of Tuawera
Tūrakipō, a chief of Ōpawāho sought Hineao, a daughter of Te Ake of Akaroa for a wife. She spurned his advances so Tūrakipō cast a spell of death upon her.
In revenge Te Ake her father went to the hill overlooking Sumner and sent forth mighty karakia against Tūrakipō and his people.
In answer to his prayers a whale was stranded on the shore which the people of Tūrakipō eagerly cut up and feasted upon. Those who ate the whale fell asleep and subsequently died.
Tūrakipō, feeling that the stranded whale was the result of makutu (black magic), did not partake with his people. However, later, having few followers left to help him he was duly slain by Te Ake's party.
Sources
W.A. Taylor, Lore and History of the South Island Māori, Bascands, Christchurch, NZ, 1952
Walk Christchurch : 60 short walks that explore your city ; edited by Mark Pickering, compiled by Kjesten Nilsson, Karen Theobald and Lesley Symington. Published: [Christchurch, N.Z.] Leisure Unit, Christchurch City Council, 1998