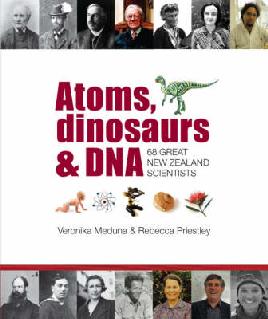 Ada Lovelace Day takes place in October. Its aim is "Celebrating the achievements of women in science, technology, engineering and maths".
For interesting reading on New Zealand women scientists, try:
Elizabeth Joan Batham - Marine biologist, university lecturer
In England from late 1945, Batham did pioneering experimental work on sea anemones under Carl Pantin at both the University of Cambridge and the Plymouth laboratory of the Marine Biological Association of the United Kingdom. She returned to Dunedin in September 1950 to oversee the revival of the old marine station at Portobello, which was to be taken over by the university. She served on the New Zealand Oceanographic Committee, participated in the Danish Galathea Deep Sea Expedition (1952) and was a member of the Chatham Islands 1954 Expedition. Batham was elected a fellow of the Royal Society of New Zealand in 1962. She also served a term as president of the New Zealand Marine Sciences Society in 1966.
Muriel Emma Bell - Nutritionist, medical researcher
Appointed government nutrition officer to advise on problems arising out of the Second World War, she made recommendations concerning rationing and set the national ration scales for food items. Bell's forte was applied research into subjects of practical everyday importance, such as the vitamin content of New Zealand fruit, vegetables, fish and cereals. She provided information to the public through the Department of Health, the Plunket Society, and the press.
Ellen Wright Blackwell Writer and botanist
Laing and Blackwell's Plants of New Zealand was to become a botanical classic running to seven editions over the next 60 years. Several generations of people interested in New Zealand's native plants were to use it as a constant reference book and a number of professional botanists would credit it with stimulating their original interest.
Kathleen Maisey Curtis Mycologist
Kathleen Curtis was the first New Zealand woman to gain a DSc, conferred by the University of London in 1919. Her thesis, on the cause of wart disease in potatoes, was considered the most outstanding mycological research of the decade. Suffrage Centennial Year, 1993, brought further recognition of her life's work when, at the age of 100, she was remembered as a pioneer plant scientist. In 1994 a portrait of her as a young DSc graduate was painted by Colin Allen and hung in the Royal Society's headquarters in Wellington.
Pérrine Moncrieff - Ornithologist, conservationist, writer
Her paternal grandparents were the British painter Sir John Millais and his wife, Euphemia Gray. There was no contemporary pocket field guide on native birds, and in 1925 Pérrine wrote New Zealand birds and how to identify them. She used her own observations in the field and in museums, ornithological texts, and had help from R. A. Falla, W. R. B. Oliver and other ornithologists. Although she intended her book for the untrained bird-lover, it influenced scientists as well as lay people and ran to five editions.
Beatrice Tinsley astronomer and cosmologist
Tinsley completed pioneering theoretical studies of how populations of stars age and affect the observable qualities of galaxies. She also collaborated on basic research into models investigating whether the universe is closed or open. Her galaxy models led to the first approximation of what protogalaxies should look like. In 1974 she received the American Astronomical Society's Annie J. Cannon Award in Astronomy, awarded for "outstanding research and promise for future research by a postdoctoral woman researcher", in recognition of her work on galaxy evolution. In 1977, Tinsley, with Richard Larson of Yale, organised a conference on 'The Evolution of Galaxies and Stellar Populations'. Shortly after, in 1978, she became a professor of astronomy at Yale University.