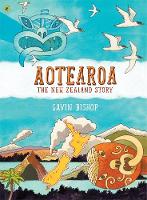 The winners of the 2018 New Zealand Children's Book Awards for Children and Young Adults were announced last night with Aotearoa: The New Zealand Story written and illustrated by Gavin Bishop, published by Puffin, Penguin Random House, being honoured as the Margaret Mahy Book of the Year (it also won the Elsie Locke Award for Non-Fiction).
And the winner is 'Aotearoa: The New Zealand Story' congratulations Gavin Bishop and @PenguinBooks_NZ #NZCYA #Winner pic.twitter.com/uXicmxzFNL

— NZCYA Awards (@nzcya) August 8, 2018
Each year, ahead of the announcement, a Read Aloud Day takes place, and some nominated authors and illustrators head on tour around the country to speak to primary and secondary school children about their work, to share insights about their process, and spark a new generation of writers and artists. This year, students in Canterbury got to hear from the following speakers: Fleur Beale, Sophie Siers, Suzanne Main, Joanna Grochowicz, Alison Ballance, and Gavin Bishop. The events were presented by: New Zealand Book Awards for Children and Young Adults in association with WORD Christchurch and Harcourts Gold.
A dramatic teen-view of the Christchurch earthquakes. Lyla is at the mall when the big quake strikes. Having lost touch with her friends and family, she finds her way home through a crumpled city. The long days and weeks that follow bring new challenges, and Lyla works with others to help with the clean-up and opening their home to those in need. A vivid insight into terrifying events and the impact on those who experienced them.
This story will be close to home for Cantabrian readers, but Fleur Beale gave an unlikely introduction to her book by advising some people in the audience not to read it! She offered this word of warning for anyone for whom the earthquakes are still a difficult memory. She said she had to do a lot of research for a story about the earthquakes to be believable to her readers so she collected real stories from people she knew about what had happened to them during the quakes and incorporated them into her book.
"There's nothing like real life for putting into a book... but you still have to make it work to fit into a story."
Beale's advice for young writers:
"Be prepared to murder your darlings" was her advice. By this she explained that you have to be willing to let go of some of your work in the editing and redrafting process. She says its traumatic but necessary to bin stuff. For this you need to let your writing sit a while and come back to it. With an established writing career spanning over 40 books, you can trust her word on it.
The enthralling and harrowing true story of Robert Falcon Scott's ill-fated Terra Nova Expedition, with evocative photographs, and illustrations by Sarah Lippett. An exciting story following the ill-fated Scott expedition to the South Pole. Scott's team battles storms, killer whales, extreme cold, and a changing frozen landscape, even before they get off the boat. The reader can almost feel the cold and gnawing frostbite in this riveting reimagining of the horrors that this group of brave and resilient men endured as they battled the elements to follow their dreams and their leader.
Christchurch City Libraries were fortunate to host Joanna in the libraries last year. Her book contains well-researched and compellingly told tragedies set in inhumane places and recount the resilient, perseverance and curiosity in human endeavours.
Joanna was a hit with the audience of school children and brought the historic subject of lesser known yet interesting characters from Scott's South Pole expedition to life, such as the photographer and the chef. Herbert Ponting who had the important job of keeping a visual record of their Antarctic journeys. In one riveting story, an encounter with killer whales nearly stranded him on the ice.
Thomas Clifford, the expedition chef, had to cook 3 meals a day for 25 men for a year - without fresh food like fruit, vegetable or usual meats like chicken. Instead he served penguin and seal, which horrified the children in the audience and would be illegal today. But they need a fresh source of meat to get vitamin C to avoid scurvy. Reports tell us that "seal liver curry was a favourite among the men".
When Michael overhears some men plotting to kidnap a student at his school, he and Elvis decide they must prevent the crime, even if it is his sworn enemy Angus who is the victim. A series of misadventures and wild assumptions see them zipping across town by bike, staking out the school painters and breaking a few rules. This fast-paced romp will keep the reader wondering until the very end.
When Suzanne Main described her childhood devoid of technological devices like the internet and smartphones – and gasp – no 'Fortnite' – there was a sound of shock and horror from a good portion of the audience. And what's more, she says "TV was only in black and white!" So, for entertainment, she read and read and read. Authors like Enid Blyton and Roald Dahl were favourites and she laments that there wasn't a lot of New Zealand writing back then. She loved to read so much that she barricaded herself in her room to avoid siblings interrupting her.
If she loved reading so much, why did it take her so long to become a writer she wondered? She said school back in her day didn't put emphasis on creativity but rather getting the right answers so she focused on maths which was 'black and white' whereas writing is neither right or wrong. Suzanne has been an accountant most of her career but about 10 years ago she realised the desire to be a writer was buried deep inside her. She joked that it is a bad thing to be creative if you're accountant - and such a sense of humour is a feature of her stories too.
She says as a child she was held back by shyness, being timid and a lack of confidence. By sharing this with the audience, she hopes that others who feel like she did won't let it hold them back:
"Creative writing is like putting a tiny piece of yourself in the world for people to judge and criticise, which is hard for shy people. My fear was that I would suck" but, she advised the students in the audience, "you have to risk being rubbish when you are trying something new. Put aside your fear of not being good – you'll become good if you put in the time and effort and determination even if you're not good at it. Something you're not good at today, you might be in the future."
A gentle story about a sad little girl and the horse she bonds with, which will sit with the reader long after it is finished. Sensitive pastel illustrations work well with the text, setting the emotional tone, and reflecting the themes of patience and grief. Layered with meaning, the story deals with complex emotions in a thoughtful way, giving readers a sense of hope that life will get better.
Sophie advised aspiring writers of the old adage to place your stories in an environment you know well, to help create more authentic stories. For her, this is the farm with her many animals, such as the horse that features in her story about dealing with grief, The Gift Horse. She talked about the reasoning behind writing a sad story. When something has happened to you, reading other stories about similar situations can help you understand your feelings. On the other hand, if you haven't had a particular bad thing happen to you, maybe it has happened to someone you know or might happen to you in the future so it fosters empathy and understanding by reading about it.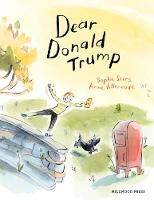 Sophie has also recently published another book Dear Donald Trump that takes Trump's idea of building a wall and translates it into the bedroom of two brothers in New Zealand who aren't happy sharing a room. Letters to Trump from the younger brother debating the merits of the wall fill the book as the "great idea" of a separating wall is revealed to be not so great after all. This book makes a great read-aloud to school children and generates conversation about conflict. It is a lovely use of a topical political discussion translated into domestic family life.
From the cold waters of Stewart Island to the warm tropics of the Pacific, New Zealand's great white sharks are tracked by scientists seeking answers about these magnificent ocean predators. In this book, vivid descriptions and plentiful photographs capture the excitement, demands and rewards of tagging and tracking great white sharks. They demonstrate how a career in science can lead to all sorts of adventures, and how sharks and the marine environment deserve our respect and protection.
New Zealand's Great White Sharks

Alison Ballance is a zoologist, diver and wildlife documentary maker. She has written 29 books and dived with 14 kinds of sharks. She even has a shark named after her from Stewart Island. She says that electronic tagging has revolutionised mankind's understanding of sharks. She showed us a map of ocean waters with the travel lines showing where specific sharks have travelled. There are websites you can track individual sharks on their journeys. Despite advanced technology, she says that there are still many questions left unanswered about sharks. Perhaps the next generation will find out more answers? Certainly many children have a fascination with sharks, as the audience's keen questions about her team's close calls with sharks proved.
And the winner is....
Aotearoa: The New Zealand Story written and illustrated by Gavin Bishop, published by Puffin, Penguin Random House, honoured as the Margaret Mahy Book of the Year (it also won the Elsie Locke Award for Non-Fiction).
This wonderfully bold and abundant book, large in format and scope, takes us from Aotearoa's prehistory to the modern day with stories of the people, places and events that have shaped us. The dramatic and detailed illustrations, with taha Māori integrated throughout, are complemented by minimal text providing context and inspiration to find out more. A book for every home, school and library.
Known for Mrs McGinty, The House that Jack Built and original stories and retellings of Māori myths, this accomplished author and illustrator nonetheless felt panic set in once he accepted the publisher's challenge to produce an illustrated 64-page history of Aotearoa. Since he couldn't include everything, he realised that "this book will be about as much as I leave out as what we put in."
"We were told a skewed impression of the history of Aotearoa at school"
he says, and Bishop's work in this book helps rectify the misinformation he was given in his childhood. He talks about the importance of his work being checked by historians and Māori language experts. Māori brought with them their idea of the creation of the world, so Bishop covers Māori myths and legends in the book as well.
Researching other topics ranging from the influenza epidemic to WWI animals, Bishop was constantly astounded and overwhelmed by what he learnt in his research. In creating this book, he says:
"it made me think about where we have come from and where we might be going."
Find books by Gavin Bishop in our collection.
More:
Read the winners of the New Zealand Book Awards for Children and Young Adults.
The New Zealand Book Awards Trust have teamed up again with HELL Pizza to encourage school-age children to read more. Their reading programme runs through schools and libraries nationwide. Christchurch City Libraries is again offering this reading challenge reward system.