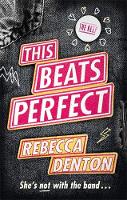 This Beats Perfect is a contemporary young adult story about finding your voice. There's music, social media and girl meets boy. Author Rebecca Denton was a teenager in Dunedin in the early 1990s rocking out to the 'Dunedin Sound' and has been ensconced in the music scene ever since. Her novel even includes a playlist. We went 'backstage' to talk to Rebecca about writing her first book and musical influences.
The novel's title is a perfect play on words. The story is based a little bit on the author's own life experiences of being 17. Denton was a singer-songwriter herself but too shy to put herself forward due to a "fear of failure." She says that "always in the back of my mind since I was really little I wanted to write... a book, a movie... write, write, write" and that it was a matter of finding "creative courage" to do so. In a way, this first novel is like putting a song out there. I interviewed Rebecca to hear more.
Rebecca, you have said you still feel like a kid, 18 at heart, and in This Beats Perfect you say you get to revisit dreams that you didn't chase. Can you tell us more? Both the main characters Amelie and Maxx are held back by a fear of failure - about playing their own music to a wider audience - whether it's anonymous Amelie feeling performance anxiety as she falters at her auditions or famous Maxx afraid to break out of the boy band mould he's found himself in. Has this focus on a fear of failure come from somewhere for you?
I picked up the guitar from 14 (after I rather shortsightedly deemed my piano and trumpet were highly uncool). I wrote a few songs and played the odd gig but I was so terrified performing that I never chased this passion with the ferocity I should have. As a teenager I was afraid of being judged for many reasons but one of the most critical was that I felt if I wasn't exceptional then it wasn't worth trying.

This all or nothing fear of being nothing but *the best* never left me. It followed me right through my career in advertising and TV and really held me back. I was too afraid to stand out creatively, make bold decisions and believe in and listen to my own voice. Because of this I never fully put myself out there.

Then I got older, wiser, and realised that creativity can be a personal pleasure and it didn't matter if that outspoken friend or peer I looked up to didn't like what I did. It didn't need to be for them. When you get wise to the fact that critics are not the custodians of pleasure, you become free. See: PUNK ROCK.
"Not everyone is going to like what you do no matter how real you are." - from This Beats Perfect
How does the saying 'write what you know' apply to your novel?
When I decided to write a book, I didn't have time for tonnes of research (due to small children) so I thought: What did I do at 18? Who did I want to be? Let's relive that. And luckily I'd spent my career working and being around music and musicians so I was able to draw on that. I didn't know everything of course. I got a little help from some friends.
Rebecca, you moved to Dunedin as a young teenager and went to Logan Park High School. How has growing up in Dunedin shaped this young adult novel? Tell us more about the influence of this time and place on your novel?
Frankly, I hated high school. But Logan Park has produced some pretty crazy talented folk* over the years. I didn't click with my music teacher, or perhaps any teachers while I was there, but I appreciate some things looking back. The school was far more liberal and supportive of creativity than some of the more conservative single sex schools in Dunedin.

By the last couple of years of school I was so tediously bored and from about the age of 16 I started sneaking out of school and hanging out at the student union at Otago University in my school uniform or this little café near the university where they sold Dime bars, mugs of tea and single Camel cigarettes.I fell in with a music crowd and started sneaking into gigs at the Empire and the Crown. The 3Ds, The Clean, The Chills, The Bats, Bailterspace, Straitjacket Fits - I listened to or saw them all, multiple times. I was so lucky to be living in Dunedin at that time - it felt important. And in the days before the internet, small towns in the South Island never really felt important.

This time of my life totally influenced the book. I had the most amazing, clever and eccentric group of girlfriends with whom I shared everything and explored everything. There was a lot to love, and a lot to leave behind but it's still with me, everyday. There are elements of people who have been a part of my life intertwined everywhere.
* Such as Kiwi musicians Andrew Brough, Jane Dodd, Graeme Downes, Martin Phillips
Read more from the library about the Dunedin Sound
The tagline title to This Beats Perfect is 'She's NOT with the band...' In your novel, the main character Amelie is definitely NOT a groupie. Tell us about the character's need to not be defined by a either a boy or her father.
I wanted to explore an area of music we don't normally find a lot of women - and that is production and composing. PRS for Music (The Performing Rights Society) did a report in 2011, and discovered that only about 13% of registered composers in the UK were woman - I've not seen the numbers but I'm pretty sure it's around the same or maybe even less in engineering and producing. So a heroine songwriter was a must - but a budding engineer was even more interesting to me.
Amelie shows her nuanced musical knowledge in the novel, rattling off obscure genres (like Nerdcore, Japonoise, Baby Metal, Nintendocore, Happy Hardcore and Fidget Bass). A depth of music appreciation shows in your writing. The playlist aspect you've created to tie-in with the book is unique. Each chapter is titled after a song. Can you tell us more about that idea?
My editor gave me feedback in the editing process that I needed to pack the book with more music. And I was struggling to come up with titles for chapters - so I thought, 'hang on what about a playlist that reflects Amelie, the story and me?'
The playlist includes New Zealand's own The Chills (Heavenly Pop - funny 'rock' video, literally), The Clean's Tally Ho and Edward Gains. There's hip-hop and The Beach Boys. Delightful discoveries in this playlist for me were Regina Spektor's The Consequence of Sound and Sufjan Stevens' Futile Devices. Amelie's favourite artists mentioned in the novel include Marika Hackman, Laura Marling, SZA and Aldous Harding.
You have specifically referenced Lyttelton musicians Aldous Harding and Marlon Williams in your novel. When Amelie's sound engineer father encourages Maxx to find the soul of his own music, he takes him to see a musician he feels embodies this...
"His voice was deep as Johnny Cash, but with a modern cabaret feel, inspired and exquisite storytelling over timeless melodies." "This isn't songwriting for money, for fame, even for the audience's entertainment." ... "Reminds me of Marlon Williams..."
I just want to support Kiwi musicians as much as possible, and I absolutely love what Marlon and Aldous are doing. Marlon Williams' cover of the Screaming Jay Hawkin's track Portrait of a Man is just so... so good.
Read our blog post about Aldous Harding's session on songwriting at the WORD Christchurch Writers and Readers Festival.
Any favourite memories or places in Christchurch for you?
When you live in Dunedin, Christchurch is the big smoke. I specifically remember I saw The Bats there when I was 16 (braces and all) with my friend Marea. She wore my mum's home-knitted emerald green '60s dress and I wore some cobbled together monstrosity.
What did you READ when you were a teenager?
You know, not a lot. I kind of stopped reading at around 13, well books anyway, and all my spare time was dedicated to music. Playing, listening, memorising lyrics. I did love books like Flowers in the Attic (yikes!) but honestly I just didn't really read very much. I wish I had. I think if there had been a more interesting YA (young adult) reading community like there is today I would have read much more.
What role did (or do) libraries play in your life?
My father is an academic and writer so I spent a LOT of time in libraries with him when I was younger. Even today, when my Dad visits there will probably be some kind of trip to the library involved. I love going to them with my kids as well, snuggling up on a sofa and reading Hairy Maclary for the 100th time.
What's your next project Rebecca? Any encores?
Book 2 follows on from This Beats Perfect, but it's not Amelie's tale, but the story of two young women: the privileged daughter of a record label executive who gets caught up in the business of selling celebrity secrets. And a hyper bubbly fangirl who has outgrown her idols and looking for what to do next. It's fun, but also probably more layered than This Beats Perfect. Book 3 is in the same fictional world as well. I'm just starting it, but it will be about an all-girl punk band who scam their way to international glory. I can't wait to write this book.
Rock on Rebecca!
More
This Beats Perfect would make a great read for artistically inclined teens or any young person wanting to give their passions and talents a push. This is the sort of book I want to give my musically minded daughter in her teens. It is published by Atom Books and Hachette New Zealand.
This Beats Perfect
by Rebecca Denton
Published by Hachette New Zealand
ISBN: 9780349002729
More about the author: Rebecca is originally from Melbourne, moved to Dunedin as a young teenager and later spent many years in the UK. New Zealand sits deepest in her heart. She now lives in Austria with her young daughters, a trumpet, 2 guitars, a keyboard, several vintage computer games. She spent her career travelling the world making music TV for MTV and Channel 4, and wrangling young adult audiences for the BBC and ITV. She's filmed Iggy Pop, MIA, Kaiser Chiefs, Sonic Youth, Jack White, Dirty Pretty Things and The Klaxons, to name a few.
Rebecca's recommendations
Rebecca says: YA literature is SO MUCH MORE than fantasy. There are so many incredible books out there (200+ debuts in the USA alone this year).
Read
Everyone teenager (and adult) needs to read The Hate U Give by Angie Thomas. The story was inspired by the killing of Oscar Grant, an unarmed 22 year-old African America by a transit officer and is one of a crop of books exploring racial injustice out this year.
Read Kiwi
Fellow writery mum Bianca Zander's Predictions or The Girl Below.
Magic
A great escapist read was Caraval by Stephanie Garber. Great fun - I really just lost myself in that book.
Read our Caraval review.
Queer stories
Simon vs. the Homo Sapiens Agenda by Becky Albertalli is going to be a cult movie - so read the book first! And one of the most hotly anticipated YA books of the year is The Love Interest by Cale Dietrich. A fellow YA author said to me that it is 'one of the best books you'll ever read.'
Listen
Start your 'women in punk' journey with Patti Smith's record Horses.
Watch
Grace Taylor. Seek out some of her spoken word performances online or Taylor's TedX Talk. And then buy, share, support and help to raise up voices of the marginalised in New Zealand.
Support art
Go to Art Ache if you can (it offers original pieces of art at affordable prices). There was one recently in Dunedin, and they happen regularly in Auckland. Buy some affordable limited edition pieces by other New Zealanders and help boost our artists.
If you like the sound of This Beats Perfect ...


Lonesome When You Go by Saradha Koirala. Paige plays bass in high school rock band Vox Pop, which means keeping steady even in their most raucous rock and roll moments. But in the tense build-up to the Rockfest competition, Paige finds she can't control everything in her life, no matter how hard she practises. Lonesome When You Go is a novel about practising solo, performing like a rockstar, and how contributing your best self to something can create a force greater than the sum of its parts.
Author Saradha Koirala taught English at high school in Wellington for ten years.
Read an excerpt from Lonesome When You Go.

You may also like the recently released