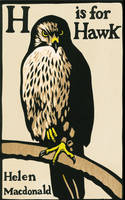 Helen Macdonald, the author of H is for Hawk, would be a goshawk.
She knew this from the age of nine, when after a visit to the zoo with her parents, they had to peel her fat little fingers from the wire of the birdcage and carry her sobbing home. She did not want to leave the birds.
After the sudden death of her father, she took off into a remote area of England with only her newly purchased goshawk, Mabel, for company. In last night's WORD Christchurch event she took us through her year. And what a year it was - solitary, quite mad, running in the wild with her bird, eating bird-catch and stale pancakes, covered in mud and scratches and passing her time observing Mabel and playing games with her.
Her book covers all of this. Her take on grief:
Grief is love with nowhere to go
Her references to a seminal book The Goshawk by T. H. White - a deeply disturbed man whom Helen at times felt she might be turning into, and her take on falconry. Halfway through I began to wonder what wild animal I would most identify with and like to be. I started with the Big Five - nononononono, then I tried the Little Five - no, horse NO ostrich - maybe ... but no.
Throughout Helen Macdonald was a joy to listen to and I was second in line to have my copy of her book signed. When I got to the signing table (and in typical Roberta style), I heard my mouth asking Helen: When will I know what my signature animal is? I am beginning to fear it is a Scottish Terrier.
She looked up, moved her head from side to side like a focussing hawk, stared down her suddenly beakish-looking nose and said: A Scottish Terrier would be good.
And that is why I love Literary Festivals, you enter the venue as a jaded library assistant and you leave as a Scottish Terrier being hunted down by a hawk!

The goshawk and the scottish terrier.