This page features extracts from a recorded interview with Aroha Reriti-Crofts speaking about the Ōtautahi Māori Women's Welfare League.
Te Rōpū Wāhine Māori Toko I te Ora o Ōtautahi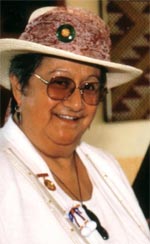 Aroha Reriti-Crofts C.B.E., J.P. (Ngāi Tahu) joined the Ōtautahi Māori Women's Welfare League in 1968 and served as secretary of her branch in the 1970s. Aroha was elected National President of the Māori Women's Welfare League in 1990. She was awarded a CBE for her services to Māori and the community in 1993. Aroha remains an ardent spokeswoman for and member of Te Rōpū Wāhine Māori Toko I te Ora o Ōtautahi today.
Karakia Mo Te Rōpū Wāhine Māori o Ōtautahi
E Īhowa ka inoi atu mātou
I roto i te whakaaro pono ki a koe.
Awhinatia mai mātou
Te Rōpū Wāhine Toko i Te Ora
Me a mātou mahi hei oranga mō te iwi
Ko ngā mahi o te hē.
Kaua e waiho kia whai wāhi
I roto i a mātou mahi.
Hōmai te kaha me te māramatanga,
Rangimārie ki roto i a mātou,
I roto i te aroha mai
Ōu e Ihowa.
Āmine
Background History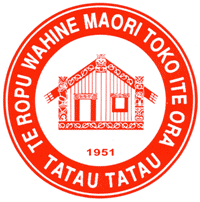 Today the Māori Women's Welfare League is well-known throughout New Zealand. The political and social reasons for its development can be traced back to the 1930s when the rapid movement of Māori from rural districts into the cities was accompanied by a mass of problems including issues around housing, health, finance and racism. Urbanisation highlighted the need for a national body working in the interests of Māori welfare.
In 1945 the Māori Social and Economic Advancement Act led to the employment of Māori welfare officers who worked with Tribal Committees throughout the country to identify the needs of Māori. Te Rangiātaahua Royal, a senior welfare officer at this time, recognised the need to consult more effectively with Māori women as the Tribal Committees were largely a male domain. Welfare officers working under Royal organised groups of women around the country to consider the health and welfare needs of their communities. They facilitated the formation of League branches around New Zealand and the National Māori Women's Welfare League (Te Rōpū Wāhine Māori Toko I te Ora) was born.
Te Rōpū Wāhine Māori Toko I te Ora
The inaugural conference of Te Rōpū Wāhine Māori Toko I te Ora was held in Wellington in September, 1951. The ninety women delegates present elected Whina Cooper as President of what was to be the first national Māori organisation in New Zealand. The League provided a national forum for Māori women to express their concerns about the social problems experienced within their communities. It played a major role in making representations to government on Māori issues. The League gave women the opportunity to network, compare ideas, support each other, develop leadership skills and plan strategies to deal with the problems faced by their people. It also emphasised the importance of fellowship and understanding between Māori and non-Māori.
Māori Women's Welfare League in Christchurch (Te Rōpū Wāhine Māori Toko I te Ora o Ōtautahi)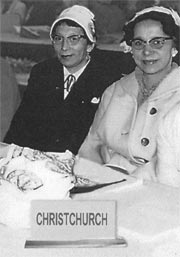 Te Kiato Riwai, a Māori welfare officer, was instrumental in forming the Māori Women's Welfare League branch in Christchurch in 1952. Te Rōpū Wāhine Māori Toko I te Ora o Ōtautahi was one of the first branches of the League to be formed in Te Wai Pounamu. Branches at Taumutu, Tuahiwi and other Canterbury regions were formed with Riwai's assistance during the same period. In 1952 Te Rōpū Wāhine Māori Toko I te Ora o Ōtautahi was represented at their first National Conference which was held in Auckland.
League Work in Ōtautahi
Aroha Reriti-Crofts' early experiences with the Ōtautahi Māori Womens Welfare League which she joined in 1968
The core of the League's work has always been to help Māori women and their Whānau by improving and supporting their health and well-being. The League focuses on promoting wellness in the community as opposed to treating illness. Hence their work centres on the home and family life including education, health, housing and employment. Since its early years the Ōtautahi branch of the League (OMWWL) has been actively involved in pursuing goals that fall within this kaupapa.
OMWWL has become an integral part of social-work and community education in Christchurch. Projects run by OMWWL are either locally based or part of more extensive national programmes delivered by League branches throughout the country. Nationally led initiatives have included the promotion of immunisation of Māori babies and promotion of the 'smoke-free' message through a Healthy Lifestyle: National Māori Netball programme. The League employs Māori and non-Māori staff and caters for clients of all backgrounds. As with all branches of the League, OMWWL relies upon volunteers for a significant portion of its work.
Programmes run by Ōtautahi Māori Womens Welfare League
Clients refer themselves to the OMWWL programmes or are referred by Whānau, Hapū, social agencies or other organisations. The long established and respected reputation of the League means that referrals come from everywhere. The League delivers contracts for government and non-government agencies. OMWWL runs programmes that range from 'Kai in the yard' (visiting young mothers and teaching them how to plant their own vegetable gardens) to 'Wahine Ātaahua' (profiling and thanking Māori women who make a difference in their community).
Other initiatives include a car seat safety programme, Rapuora (mobile nurses), nutrition, parents-as-first-teachers education and mentoring of children at risk of leaving school. In 1990 OMWWL became a training provider of a lifestyle programme for Rangatahi which led to the development of the Poutama Training Centre that now operates autonomously. The League's delivery of Tamariki Ora Well Child health programmes has also led to the development of a separate organisation. In the future it is likely that further League initiatives will expand into new, independent organisations.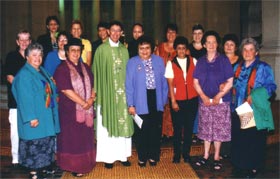 Today the League has branches throughout NZ and several branches overseas with a membership of approximately 3000. OMWWL holds monthly meetings and annual conferences are held at both regional and national levels.
In 2002 the Ōtautahi Māori Womens Welfare League celebrated their 50th jubilee. At that time, League members recorded a selection of Waiata including the Māori Women's Welfare League hymn that you can listen to on this page.
Ōtautahi Māori Womens Welfare League sing the League Hymn, 2002
Links
Sources
Aroha Reriti-Crofts, Interview by Helen Brown. Te Whare Puāwai, Peterborough Street, Christchurch, DAT recording, 29 June 2005
Te Timatanga a Tātau Tātau. Early Stories from Founding Members of the Māori Women's Welfare League. Māori Women's Welfare League, Bridget Williams Books Ltd, 1993
Michael King, The Penguin History of New Zealand, Penguin Books, 2003