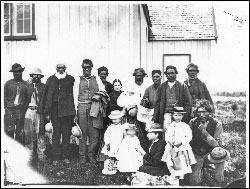 Tuahiwi is a small rural settlement 6km north of Kaiapoi.
It has long been an area in which Māori have lived. Tuahiwi means beyond the mound.
When the nearby Kaiapoi pā fell to Te Rauparaha in 1831, Tuahiwi and other nearby kāika were also destroyed. Tuahiwi became a sacred place on account of the deaths that occurred there.
The re-establishment of a Māori settlement at Tuahiwi began in 1848 when a 2600 acre Native Reserve in the area was given in exchange for the European purchase of Māori land at Koukourarata.
Reluctant to move to their sacred grounds at Tuahiwi, many Māori from Koukourarata subsequently moved to Little River.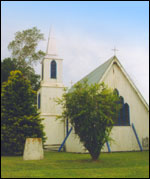 However, Māori land at Tuahiwi was rapidly being sold to European sawyers by individuals without consulting the entire tribe. Māori did not return to live at Tuahiwi until persuaded to do so by the Reverend J. W. Stack who went on to establish a mission school in the area.
At the time of its establishment, native birds abounded in the thick native forests of Tuahiwi and Rangiora. The reserve land was divided among Ngāi Tahu members. The school, marae and church became and remain today as strong cultural centres for the community.
Sources
Tuahiwi in our Digital Collections