Travis Wetland is located in north-east Christchurch, close to sea-level, and is typical of pre-European Christchurch and Canterbury plains swamp lands.
1600 years ago it was an estuary similar to the Avon/Heathcote Estuary of today. A sandbar gradually shut out the sea, decreasing salinity and allowing wetland plants to take over from saltmarsh species.
Travis is the largest wetland in Christchurch with an area of 56.5 hectares, and is unique in the fact that it is situated in an urban area. Bounded by Mairehau, Frosts, and Travis Roads, this area is Christchurch's last major piece of freshwater wetland. When you consider that Christchurch was built from a swamp, these remaining wetlands become a very important part of our history and heritage.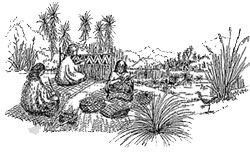 Travis Wetlands were one of the mahinga kai (traditional resource gathering areas) and used by Waitaha from about 900AD, Kati Mamoe from about 1600, and by Ngai Tahu from about 1650. Queen Elizabeth II Park now occupies the land (known as Oruapaeroa) that was the residential area for the families of Ngai Tahu who harvested these wetlands. Eel, fish, kereru, raupo seeds, and other wildlife were in abundant supply. Harakeke was used for weaving baskets, clothing, and roofing, and raupo was used for thatch. In the mid 19th century the whare of Oruapaeroa were still standing but were burnt down in 1862 when a European settler gained crown grant of the land. Māori had requested that this ancient pa site be excluded when Kemp's Purchase of 1848 was drawn up, but this did not happen.
Only a decade ago, these wetlands were grazed by cattle and looked like becoming yet another housing development. The Travis Wetland Trust lobbied the Christchurch City Council to step in and buy the land which they did in 1996.
Travis Wetland is an important site for local and regional conservation of wetland plants. Among the plants here are manuka, the tall baumea reed, a spider orchid, and other small herbaceous plants. These survivors nestle within the predominant vegetation of rushes, sedges, grasses, herbs, New Zealand flax, raupo, and ferns. Some of the native plants here were thought to be locally extinct.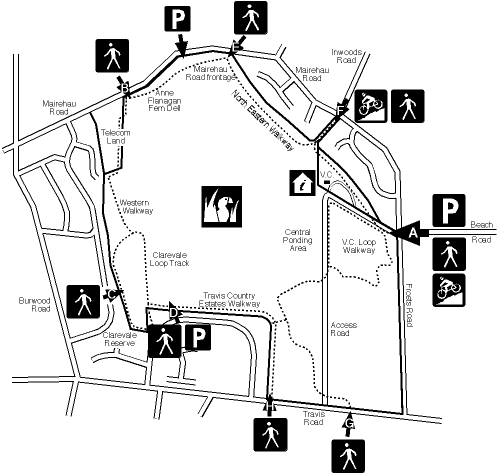 Volunteers have removed exotic plants like gorse, willow, and blackberry which threaten the native vegetation. On 28 March 1998 many enthusiastic Canterbury Forest and Bird supporters celebrated their 75th Anniversary by planting trees in the wetland, including kahikatea, coprosmas, flaxes, and ribbonwoods.
Travis Wetland holds the second largest concentration of birds in Christchurch, after the Estuary.
Approximately half the total Christchurch pukeko population is supported on these wetlands with more than 700 pukeko wintering over here. The pukeko is one of 55 species of bird recorded at the wetlands, with 31 of those being native. Pukeko numbers are increasing here, while elsewhere they are on the decline. Destruction of habitat and predators being two of the main reasons. Fortunately for the birds at Travis Wetland, there is a big enough buffer zone to keep predators at bay and allow the birds to breed successfully. It has been observed that birds from the Estuary and oxidation ponds move to Travis Wetlands to breed as the land around the Estuary and ponds are too open and exposed to predators. Other birds seen are the grey warbler, fantail, swallow, kingfisher, shelduck, plover, pied stilt, white heron, and visiting cattle egrets.
Over 600 insect species have been identified and of these 83 per cent are endemic to New Zealand. Over 50 large invertebrate species (spiders, snails, worms, etc) were identified with 24 of those being aquatic invertebrates. Wildlife recorded include the native short finned eel, whitebait (Inanga), the Canterbury mudfish, and an indigenous skink.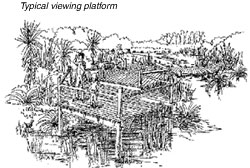 Public access is via a system of walkways, allowing all capabilities to enjoy this wetland habitat from both the tracks and from viewing platforms.
The Anne Flanagan Walkway was named after Burwood/Pegasus Board member (1989 - 1994) Anne Flanagan, for her tireless efforts that helped secure Travis Wetland Nature Park for the citizens of Christchurch.
Travis Wetland is a resource beyond measure. It is a conservational, scientific, educational, recreational, and tourism resource that will provide interest and enjoyment for generations to come.
Sources
Bissell, Eleanor. Happenings at Travis Swamp, 1998
Lovell-Smith, Mary. Swamp Success, 2001
Main, Angela. Conservationist's plea to save Travis Swamp. The Star, 13 August 1988, pg 6
Meurk, Colin D. Travis Swamp Revisited. Canterbury Botanical Society Journal. Number 22, pg 47-63. 1988
Travis Wetland: nature heritage park. Coast Care, Christchurch City Council. Christchurch, NZ. 2000
Travis Wetland nature heritage park: an assessment of the development concept & summary of technical evidence. Parks Unit, Christchurch City Council. Christchurch, NZ. 1996
Travis Wetland nature heritage park: landscape development plan. Christchurch City Council, Christchurch, NZ. 1999