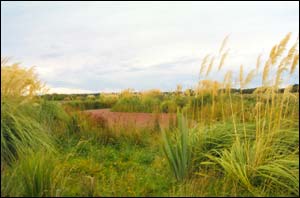 Travis Wetland was one of the mahinga kai visited seasonally by Ngāi Tahu.
Adjacent to Travis wetlands was Ōrua Paeroa, the residential area for the Ngāi Tahu families who harvested the resources of these wetlands. This area was near the site of QEII Park built for the 1974 Commonwealth Games. The complex was demolished following the 2011 earthquakes.
Ōruapaeroa Pā was supplied with eel and fish, kererū and native plants such as raupō seeds for food. Harakeke was used for weaving baskets, roofing and clothing; raupō for thatch.
Early Māori passing through the area would have experienced tui feeding on flax nectar, wood pigeon gorging on wine berries, hawk, moa, and other birdlife.
Today, Ngāi Tahu consider that the protection and enhancement of this area as a Heritage Park will enhance the image of Christchurch and complement the tangata whenua values of this area. In time native birds currently rare or locally extinct could be attracted back to the wetland area and current populations increased.
Sources
Related links