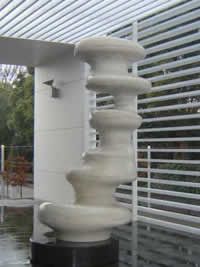 Concrete. Unveiled 16 June 2006.
Libraries are known to contain great knowledge, but Upper Riccarton Library has placed theirs outside the front door.
Christchurch artist Phil Price was commissioned to create a sculpture to celebrate the library's opening and created Knowledge an abstract form of off-centred or cantilevered disks resembling a stack of books that look as if they are about to topple over.
The sculpture, one of the first contemporary public art works by Phil Price, was unveiled at Upper Riccarton Community and School Library on Friday 16 June 2006. He said the random position of the pieces had a latent kinetic feel, and provided a balance to the perfectly linear architecture of the Upper Riccarton Library.
"What people want to take from Knowledge is that it is a sculptural form they have not seen before and that they like it. It is not a lot deeper than that. The form does give a feeling of a sense of growth."
A departure from his recent kinetic works, Knowledge stands 3.2 metres high, sitting on a Timaru Bluestone plinth. The actual work is made from a white composite-mix concrete that will reflect and interact with light.
Phil Price was born in Nelson in 1965. Between 1984 and 1989, he earned a BFA at the School of Fine Arts of the University of Canterbury and has since made Christchurch his home. He is best known for his large wind-driven kinetic sculptures that include Zephyrometer in Wellington, Cytoplasm in Auckland and, his creation on the junction of High Street, Manchester Street and Lichfield Street - Nucleus.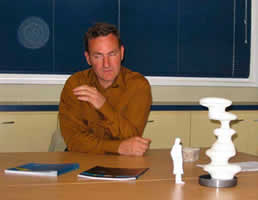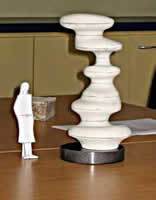 For more information about Phil Price, visit Phil Price's web site