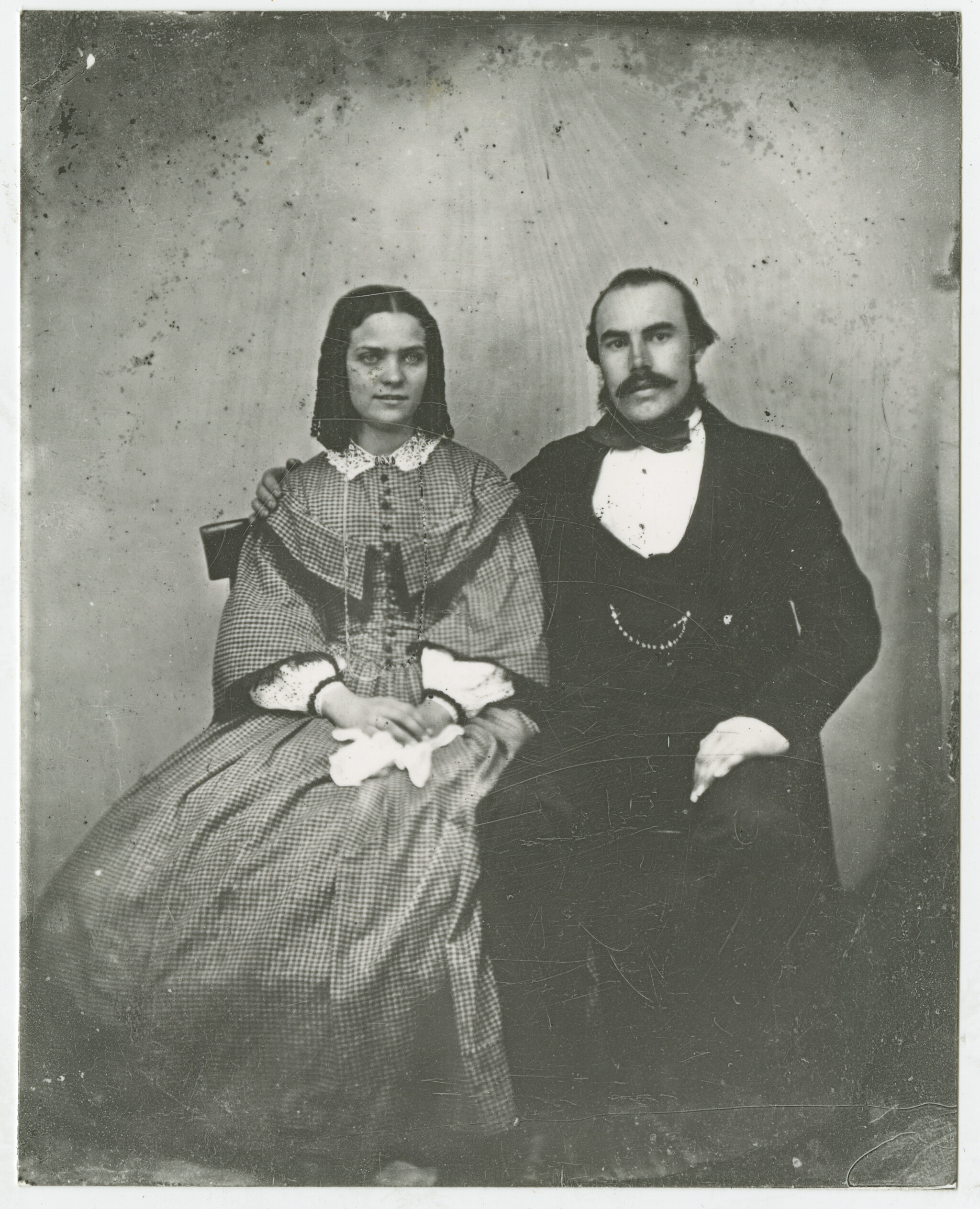 Notes on back of photo: "This couple is said to be Edward & Thirza Mulcock; taken about the time of their wedding 10 July 1860". This picture probably is made from a glass plate photo." 
Edward Mulcock (1837-1915) was born in Hatfield Peverel, Essex, to a farming family. After immigrating to Australia, where he worked for three years, he settled in New Zealand in the early 1860s. It was around this time that he married Thirza Thompson, the daughter of Charles Thompson of Cambridge. Following his arrival in New Zealand, he worked as a stock dealer and a farmer. Purchasing land at Flaxton in the Waimakariri District, he served the community through his roles on various boards. In 1876 he built Peverel Place, a homestead at 19 Mulcocks Road, Flaxton (demolished in 2015). Edward and Thirza had many daughters, including Amy, Jane and Rebecca. Thirza died suddenly from a cerebral haemorrhage in September 1889 while on a Sunday afternoon visit to her brother's farm at Saltwater Creek, Sefton. In 1898 Edward remarried, his bride being Anne Holcroft. She would remain with him for the next seventeen years before his death at their home in Sumner in 1915. 
Do you have any family photographs of early Canterbury settlers? If so, feel free to contribute to our collection.
The Discovery Wall is a large interactive exhibition which allows several people to simultaneously explore images and stories of the history of the people and places of Christchurch. It is viewable on the ground floor of Tūranga, 60 Cathedral Square, Christchurch, New Zealand or on the Mobile Discovery Wall. Images displayed on the Wall can also be found on the Discovery Wall website.
Christchurch Photo Hunt
The Christchurch Photo Hunt is our annual heritage image competition. It runs from Tuesday 1 October to Thursday 31 October.
More information