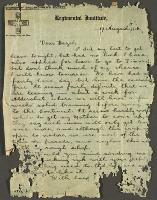 I have been reading a collection of letters by Cecil Malthus, who spent three years in service in the 1st Canterbury Battalion during the First World War.
The letters, which were written to his wife-to-be Hazel, are on our website. They chronicle Cecil's time in the army from when he went into camp in April 1914. They follow his journey from the training camp to Hobart, across to the east coast of Africa, through the Suez Canal to Cairo. Cecil writes of his longing to say goodbye to his family and Hazel. He writes of the difficulties he experiences sharing a small space with a lot of working class men. He writes of the comfort gained from a letter from home. He needs more writing paper and envelopes, please.
Cecil thought he was going to the continent. He thought he was going to have some training in England. He didn't. He arrived in Egypt in December, 1914. After undergoing more training, he shipped out to Gallipoli. He knew that Hazel and his family had read about the Gallipoli campaign in the news. His letters were, I think, intended to tell Hazel that all was going well and he was okay. While he was there, he was hospitalized with scarlet fever. Hazel wrote frequently and wanted to know about his friends. It was quite sad to read that his friends had all been killed, injured or transferred. Returning to his unit must have been very lonely.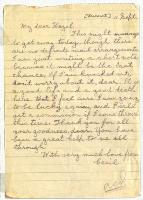 Cecil finally arrived in France in the spring of 1915 and he wrote that it was better in France. His letters became infrequent as it became harder to get anything sent off. He still replied to Hazel's comments and questions, but said nothing about the war. On 11 September 1916, Cecil wrote what reads like a letter of goodbye. I'm sure that if I checked the official war records, I would learn that he was about to engage in a big push.
His letter dated 29th September was quite hard to read. I had become used to his handwriting, but this was an unfamiliar, spidery scrawl. He had been badly wounded and for him, the war was over. Cecil Malthus was discharged from the army on 5th April 1917.
Before he went to war, Cecil Malthus was a teacher at Nelson Boys' College. His family lived in Timaru. Hazel Watters was a student at Teacher's College. She wrote to Cecil every week. They got married after he was discharged from the Army.