To the south of New Zealand's north island lies the larger island known today as the South Island. This island has also been known by a myriad of other names such as "Middle Island" (Stewart Island is technically the southern island), Te Waka ā Māui (the canoe from which Māui fished up the north island), Te Waka ō Aoraki (the canoe of Aoraki and his brothers brothers which capsized, eventually forming the Southern Alps) and Te Wahi Pounamu (the place of pounamu).
Over time this name has been changed to Te Waipounamu (the pounamu waters) and remains today as its more commonly used Māori name.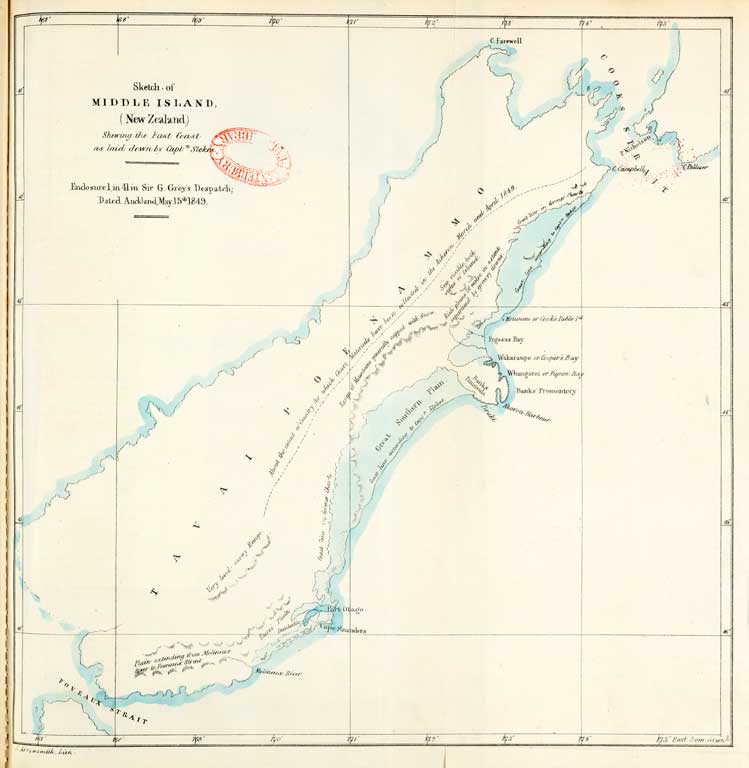 Te Waipounamu, lying in southern latitudes, was a harsher environment for early peoples to adjust to than the northern island of Te Ika a Māui (the fish of Māui). The interior was mountainous and isolated and not habitable in winter, so all year round habitation was confined predominantly to the coastal bays, harbours, lakes, rivers and plains.
The cultivation of plants that had been brought to New Zealand from Polynesia (such as the kūmara) was not common south of Horomaka (Banks Peninsula). However there are records of kūmara being grown in special pits in Temuka, north of Timaru. Habitation in Te Waipounamu was focused more on mahinga/ mahika kai - hunting and food gathering practices which required more land and mobile, geographically-dispersed inhabitants. Thus the many tribal inhabitants of Te Waipounamu settled in coastal areas where they could access the food resources of the seas, rivers, lakes and forests that surrounded them. Many settlements were nohonga/nohoka - camps with those inhabitants moving from nohonga/nohoka to nohonga/nohoka, returning only to their permanent settlement for the winter period.
Mahinga Kai
Many of the stories told relate historical figures to the places they settled and the resources that they found there that attracted them to these sites such as Rāpaki and Te Rakiwhakaputa. Te Waipounamu was an attractive destination for successive migrations of whānau and hapū groups who came from the north to utilise the resources to be found there.
The rich abundance of birds, fish, sea mammals, eels and shellfish sustained these settlements with each district having its own specialities:
Kaikōura – Kakapō, Karaka and Kōura
Kaiapoi – Weka, Kūmara and Taiwhatiwhati (Tuatua mollusc)
Whakaraupō – Pīoke (Sand shark)
Horomaka – Kererū, Paua and Kina
Arowhenua – Tī Kaurū (sugar substance extracted from Tī Kōuka)
Ōtākou – Tuaki (cockle)
Murihiku – Kanakana (Blind eel)
Rakaia River - Moa
Rakiura – Tītī (Muttonbird)
These prized mahinga kai resources were often stored in Pōhā (Kelp bags) which were a common means of storing and transporting food resources such as forest birds, fish and tītī around Te Waipounamu.
Kaiapoi Pā named by Tūrakautahi as Kai-a-poi (literally meaning to swing food in) soon developed as a trading centre where hapū groups would bring their specialities in hope of trading for other delicacies and ultimately for the sought after pounamu (greenstone).
Recent archaeological excavations centred on Pegasus (a new township near the Ashley River) have revealed extensive pounamu working sites. These sites, known collectively as the Waitaha pā Te Kohaka o Kaikai a Waro, attest to the importance of pounamu manufacture in this locality over a long period of time and to the peoples who lived in Te Waipounamu and beyond.
Web resources
Videos
Related pages
Sources