Name: Amy Brooke
Place of birth: Wairoa
Now living in: Nelson
What is your favourite food?
Cheese and onion sandwiches.
Do you have a nickname and if so what is it?
Sorry - a family thing. But I do get called A-M.
What was your most embarrassing moment?
The really embarrassing ones are best not remembered.
How do you relax?
Sleeping, thinking, reading, gardening.
Who inspired you when you were little?
A lot of the people I read about in the Arthur Mee's Children's Encyclopedia.
What were you like at school?
Intellectually curious, interested in everything, but too often deeply bored by being under-extended. I survived by always having a book to read on my knee, under the desk.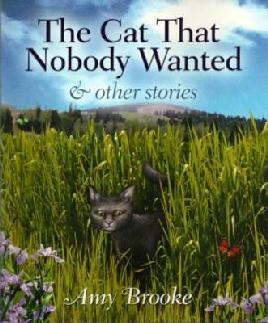 What was your favourite/most hated subject at school?
I loved reading good English literature.
Didn't dislike anything to learn about. Just disliked having too little to learn.
What was the book you most loved as a child?
Too many to recall - the best of Enid Blyton, eg The Enchanted Wood series; Arthur Ransome's wonderful stories set in the Lake District - Swallows and Amazons etc; the magic Finn Family Moomintroll series, by Tove Jansson, the Milly-Molly-Mandy books, by Joyce Lankester Brisley - so many…
Which person from the past would you most like to meet?
Christ. Then "Shakespeare" - or, rather, the Earl of Oxford!
Who is your favourite author/children's author?
Now or then? Impossible to say. Possibly C. S. Lewis, of the fairly modern books. Don't like much of the school of social realism writers. They're pretty mundane, and bored me and my four sons.
Why did you want to be a writer?
I had little choice. I was born a writer. I was the one child in my class who would write highly imaginative stories. One writes because it's easier than trying not to write.
Do you have a special place where you write your books?
In my study.
What's the best thing and worst thing about being a writer?
The best - escaping into my own stories, without knowing what's going to happen next - it's exciting.
The worst - having so little time to write.
If you weren't a writer, what would you like to be?
Perhaps a singer. I loved singing, and won the Senior Singing Prize at my college.
What advice would you give to aspiring writers?
Don't decide you want to be a writer for the wrong reasons e.g. because you think it would be prestigious. If you are a writer, born with the gift, the way ahead is the same for any other talent - effort, and time - multiplied…
Read a short story online by Amy Brooke
Read some books by Amy Brooke
More information about Amy Brooke
Amy Brooke's website
This interview is from 2002.