Lancaster Park was opened with an Athletics meeting, opens a new window on 15 October 1881, the land for the ground having been bought by The Canterbury Cricket and Athletics Sports Club Ltd from Benjamin Lancaster. For the next 30-plus years much hard work went into developing facilities for the different sporting codes -  athletics, cricket, cycling, rugby football, tennis, even swimming and horse-racing.
Thanks to the wonders of modern digitisation projects, we can read an account from The Star of 29 July 1881, opens a new window of how the grounds came to be purchased, and the work done to date.
But with World War I, all sport on the grounds stopped, and despite efforts to raise money to cover costs (including growing potatoes!), Lancaster park was £8,000 in debt and facing bankruptcy by the War's end.  The Canterbury Commercial Travellers and Warehousemen's Association came to the rescue , opens a new window- making huge efforts to pay off the debt, and secure the grounds in perpetuity for the athletes of Canterbury.  Their only request was that part of the money raised be used for the Memorial Gates to commemorate the sportsmen who had died in the War.
The name Lancaster Park was changed to Victory Park with the Victory Park Act of 1919, opens a new window, and  the official opening was held on the 27th March 1920. Architectural firm of J S and M J Guthrie designed the Memorial gates, and they were built by G L Bull in 1924

Between 1924 and 2011 many were the Cantabrians who walked through the gates to watch the cricket, see a concert, sit on the embankment ...
Who knows when we will next get the chance?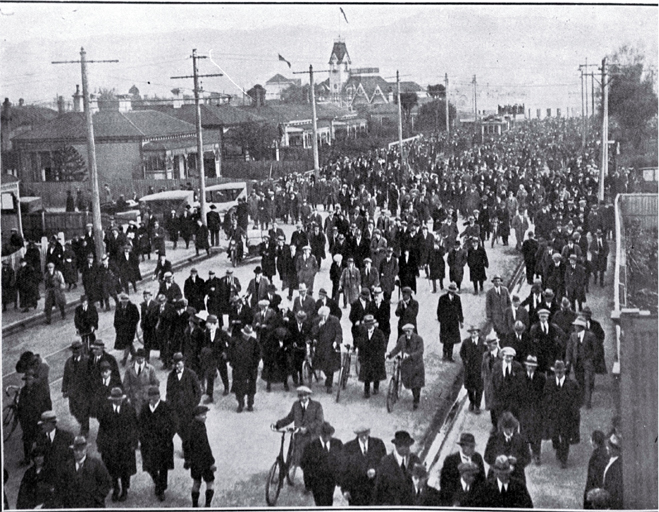 More about Lancaster Park