Lancaster Park was named after Benjamin Lancaster, the first European owner of the land. It was renamed Jade Stadium in 1998, and in 2007 became the AMI Stadium at Lancaster Park. It was damaged as a result of the 22 February 2011 earthquake and the decision to deconstruct the stadium and buildings was made in March 2017. Deconstruction work began in 2018, and finished on Tuesday 15 October 2019.
The redeveloped Lancaster Park was blessed and then officially opened by Mayor Lianne Dalziel at 9.30am on Sunday morning 19 June 2022. The ceremony was held at the Stevens Street entrance. Following the ribbon cutting, junior  players from cricket, rugby and football played on the newly grassed fields for the first time. Read: Christchurch's Lancaster Park back in play, Newsline, 17 June 2022
This page is a brief history of the origins of Lancaster Park, compiled by Richard L.N. Greenaway. It explores Benjamin Lancaster and his acquisition of land, and the region's need for a sporting venue.
Lancaster Park - Canterbury Stories
View a set of images of Lancaster Park on Canterbury Stories
Who was Benjamin Lancaster?
Benjamin Lancaster was an English entrepreneur who invested in land in early Christchurch.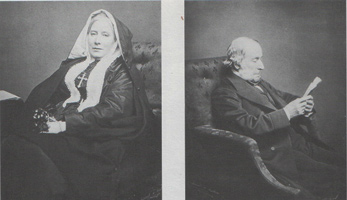 He was born in London on 1 December 1801, and became co-founder of Edward Price and Co. which produced high-quality modestly-priced candles. His wife was Rosamira Bellairs, niece of Sir William Bellairs, who, at one time, was proposed as head of the Canterbury colony. Benjamin thus became interested in the work of the Canterbury Association. Rosamira and Benjamin were philanthropists. In 1861 the couple founded St. Peter's Sisterhood, an order of Anglican nuns which cared for convalescents and taught girls to be domestic servants.
Benjamin Lancaster's allotments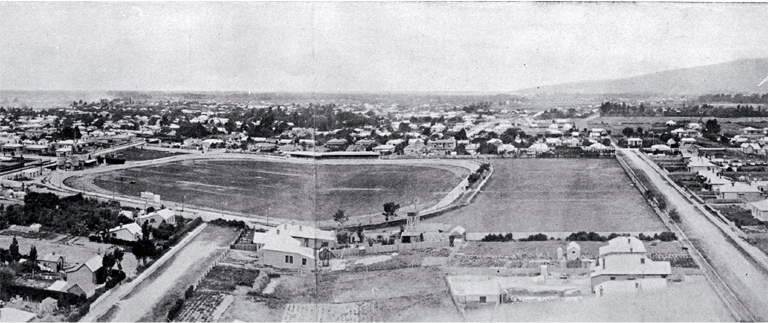 When Christchurch was first surveyed in 1850, Benjamin invested £150 and became the original purchaser of the 50 acre Rural Section 62 in the new settlement. Like a number of other purchasers, Benjamin had no intention of emigrating. His property was described as on Ferry Road.1
The purchase also entitled Benjamin to buy two quarter acre allotments of town land. Town Section 707 fronted onto Gloucester Street, while the adjacent 706 fronted onto Cathedral Square. The properties ran between the street and the square a little to the east of the former Chancery Lane.
History of Rural Section 62
In 1853, Lancaster leased the town sections to architect Isaac Luck. The eastern part of Section 707 was later leased to Joseph Baldwin, upholsterer, on the condition that it was fenced within a year and that any buildings erected thereon were substantial and neat.2
Richard Harman became Benjamin's representative in Christchurch in 1857. Harman had emigrated on the Sir George Seymour. He was a civil engineer who became a land agent. He joined forces with Edward Cephas John Stevens in 1862 to represent land investors from New Zealand and abroad. 3
In 1861, a deed was drawn up between Lancaster and Ferry Road farmer, John Marshall, whereby the latter would lease the back part of the property for 11 and a half years. Marshall promised to erect a sufficient fence within the meaning of the Trespass of Cattle Ordinance and to cultivate and manage the said premises in a proper husband-like manner.4
Benjamin had to sell a small part of Rural Section 62 to the provincial government for railway expansion in 1866. He was paid £198.5
The Lancaster block
His land was often referred to as the Lancaster block. The property was just outside the original city. In 1881 the Star described it as almost central with the lines of the South and East Belts [Moorhouse and FitzGerald Avenues] and … Lower High Street and … Ferry Road almost converging upon it, while it was within a stone's throw of the Wilsons Road station on the Lyttelton-Christchurch line of railway. 6
A sporting future
Because the Public Reserves Act forbade local bodies from enclosing and charging admission to parks and reserves, sports codes found it very expensive to become established. Opawa cricketers Frederick Wilding, William Pember Reeves and Arthur Morton Ollivier came up with the idea of a ground owned by the sporting codes where spectators would pay gate charges. In 1880 Lancaster sold them the back part of his property, a rectangular block 10 acres three roods and 30 perches in extent, at a price of £2841.
At the front of the land a road was formed running in an east-west direction, which became Stevens Street. The following year, Talfourd Street (now Talfourd Place) was formed.
In August 1880 the Canterbury Cricket and Athletics Sports Club Ltd was floated. Directors included E. C. J. Stevens, while Ollivier was secretary-treasurer and Andrew Duncan chairman. The company had a capital of £4,500 derived from 450 £10 shares. These were snapped up, and work on the grounds began.
Building the new sports ground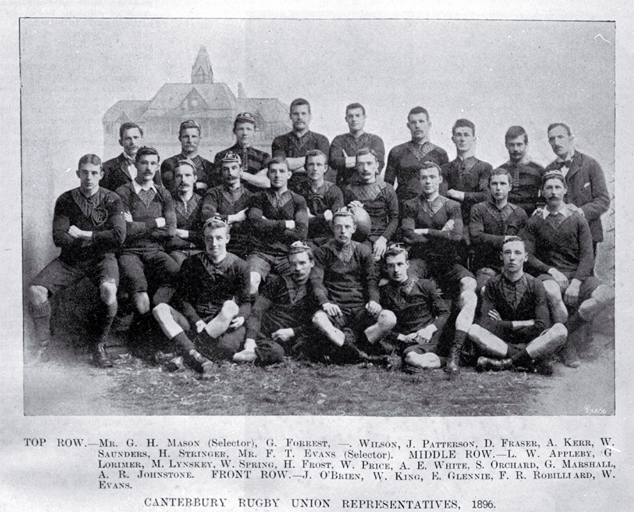 The ground was formed, levelled and fenced. A drainage system with diagonal lines of pipes discharging into a large central line was created. A journalist, visiting after heavy rainfall, commented:
Notwithstanding the once boggy condition of the land, one could go over all parts of it with comparative comfort …
The cricket area, seven and a half acres in size, was sown with Devonshire evergreen grass seed. Around the circumference of the pitch was a cinder running track 15 feet wide, 726 yards long with a straight run in of over 200 yards. There were also tennis courts and a bowling green and on three sides of the rectangle, a turfed double terrace. Plans had been drawn up for a pavilion. 7
In July 1881, the Lancaster Park Club was established to administer sport on the site.8 Annual membership subscriptions ranged from one pound 10 shillings for active male members to 10 shillings and sixpence for women and youth.
Lancaster Park opened on 15 October 1881.
The Lancaster Park Club's opening day was held on 22 October. Scores were low as the wickets, though true, were as hard as iron, and the ball … came in too fast for batsmen who had had no practice since the previous season. 9
One of the finest cricket grounds in the world
Late in 1881, an Australian visitor, J. Pomeroy, fresh from the thirsty soil and parched turf of Melbourne, marvelled as the water from an artesian well was forced by a windmill up to tanks holding 2400 gallons and distributed:
… over the vast ground, running day and night for ever … The… playing area … is a sight never to be forgotten by a cricketer accustomed to the cooped-up appearances of Australian playing areas … I wish some of our Australian ground committees could see the roller specially imported with the view to hard and true wicket. It … takes two horses to pull it … a truly splendid machine, a deadly enemy to a bad wicket and a batsman's best friend … English larks were singing … in the bright sunshine. As I sat in the terraces, I think I never anywhere saw such dazzling greenness of lawns, ground and surroundings … 10
Rugby
The last of the big sporting codes to become ensconced at Lancaster Park — rugby — arrived in 1882. On 21 September, 2500 people watched the first international rugby match where Canterbury fell all to pieces before New South Wales.11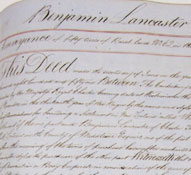 Benjamin's death
In 1882 Benjamin still owned some of Rural Section 62. Part was in Christchurch City, and part in the Sydenham Borough. The total value of the land was £11,775. 12
When Benjamin died on 16 March 1887 he left an estate valued at £135,000. Family and named charities benefited. He left £30,000 to St. Peter's Sisterhood. To afaithful servant, William Cooper, Benjamin left £500 - the same amount as was left to a number of the charities. However, the sum was to go to William only if he shall be in my service at the time of my death. Some money remained for his executors to distribute to such charities as they chose. 13
Part of Rural Section 62 remained in the hands of Benjamin's executor though Harman and Stevens retained day-to-day control. In 1892, for income tax purposes, the agents secured a reduction in the value of the now 20 acre property, to £3530. 14
Two of the founders of Lancaster Park died at 46, Andrew Duncan in 1880, and Arthur Ollivier in 1897.
Two years later, the Sydenham Borough Council proposed that Harman and Stevens pay the full cost of forming Lancaster Street, which the pair were putting through. The proposal was rejected and the council pondered again about how it would deal with the formidable business duo. 15 Building sections in Lancaster Street were sold in 1897. 16
Lancaster Park flourished
Lancaster Park continued to flourish, becoming a premier venue in New Zealand for rugby, cricket and cycling. It was also home to events such as balloon ascents.
Sources
Archives
Bellairs, Nona: Will, Archives New Zealand, Christchurch
Deeds Register Books, Archives New Zealand, Christchurch
Lancaster, Benjamin: Will, Archives New Zealand, Christchurch
Books
Bohan, Edmund, Blest madman : FitzGerald of Canterbury, 1998
Carrington, C. E., John Robert Godley of Canterbury, 1950
Cookson, John (ed.), Southern capital, Christchurch: towards a city biography, 1850-2000, 2000
Cuthbert, Elizabeth, In St. Peter's shadow: the life and work of the Community of St. Peter, 1994 (not held at Christchurch City Libraries)
Hight, James (ed.), History of Canterbury, Vol. 1, 1957
Neely, Don, Lancaster park: an illustrated history, 2006
Return of the freeholders of New Zealand, giving the names, addresses and occupations of owners of land, together with the area and value in counties and the value in boroughs and town districts, October 1882, 1884
Round the square, 1995
Slatter, Gordon, Great days at Lancaster Park, 1974
Temple, Philip, A sort of conscience: the Wakefields, 2002
Correspondence
Bournemouth Libraries, England
St. Peter's Sisterhood, Woking, England
Surrey History Centre, England
Newspapers
Websites
Footnotes
Rural sections chosen, 

Lyttelton times

, 22 March 1851 p 6
Round the square, 1995
Mr. R. J. S. Harman obituary, Star, 27 November 1902 p 3
Deeds Register Books, Archives New Zealand, Christchurch
Deeds Register Books, Archives New Zealand, Christchurch
The new cricket and athletic ground, 

Star

, 29 July 1881 p 3
The new cricket and athletic ground, 

Star

, 29 July 1881 p 3
The Lancaster Park Club, 

Star

, 29 July 1881 p 3
Lancaster Park Club, 

Star

, 24 October 1881 p 4
Lancaster Park, 

Star

, 1 December 1881 p 4
Sydney v. Canterbury, 

Star

, 21 September 1882 p 3
Return of the freeholders of New Zealand, giving the names, addresses and occupations of owners of land, together with the area and value in counties and the value in boroughs and town districts, October 1882 1884
Benjamin Lancaster's will, Archives New Zealand, Christchurch
Benjamin Lancaster's will, Archives New Zealand, Christchurch
Borough Councils: Sydenham, 

Star

, 13 March 1894 p 2; Sydenham Borough Council, 

Star

, 22 May 1894 p 1; Sydenham Borough Council, 

Star

, 6 November 1894 p 1; Sydenham, 

Star

, 20 November 1894 p 1
Building sections, 

Star

, 4 September 1897 p 7; Property sale, 

Star

, 30 September 1897 p 3
Further information