Beca Heritage Week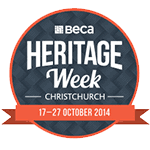 was on from 17 to 27 October 2014. The theme is Making Connections — Experience our past – present – future. See our page on Beca Heritage Week.
Library Heritage Week events included Tales on the Botanic Gardens caterpillar for kids; adult storytram with Joe Bennett; cemetery tours, and First World War-themed sessions.
19 October's big event was Discover Central City. It was a day of family fun. There were Tales on the Caterpillar in the Christchurch Botanic Gardens, and historic re-enactments in the newly-opened conservatories. People enjoyed free rides on the trams and events along the way. A retro zone at New Regent Street featured bands, food, retro stalls, street tours and vintage motorbikes.
Explore the full list of events and activities in the brochure and on the Heritage Week website.
Beca Heritage Week photos
Our photos from 2014's Heritage Week.
Christchurch Photo Hunt 2014
The photo hunt took place in October.
View the winning and highly commended entries.
Winner: Two Views in time category - Waiting for Moira Chris Andrew