I was looking forward to 'The Great WORD Debate' (a part of the Christchurch WORD festival events) after a long day at work, and never having been to an event at the Piano. I was pleased I had the opportunity to attend.  Observing the audience it appeared the demographic was widely spread from 20s to 80s. Some quietly reading waiting for the doors to open. How so, I don't know as the auditorium was loudly humming.
The Great Word Debate: Is it the end of the world as we know it? 
MC Joe Bennett.
Affirmative: Tom Scott, Hana O'Regan, Toby Manhire
Negative: Guy Williams, Paula Morris, Dr Siouxsie Wiles
Opening for the affirmative was Tom Scott: " Driving in from the airport I saw Gerry Brownlee's head on a stake, after all it is Halloween". This got the audience chuckling. He then went on to say he was met at the hotel by John Campbell who said 15 times in 15 seconds "Lovely to see you Tom, Lovely to see you Tom":
"John Campbell is the male answer to Kim Hill with slightly less testosterone!"
Still at this point no mention of 'Is this the end of the world as we know it?'.
Not that the audience seemed to mind, furthering his popularity as a raconteur, and concluding with:
"The end of the world is the end of the world, don't worry about it."
I felt Tom Scott was a bit flat in his delivery at times and shuffled his notes about. Perhaps he was just tired?
Mmm, not sure about the Kim Hill comment?  Still reflecting on that.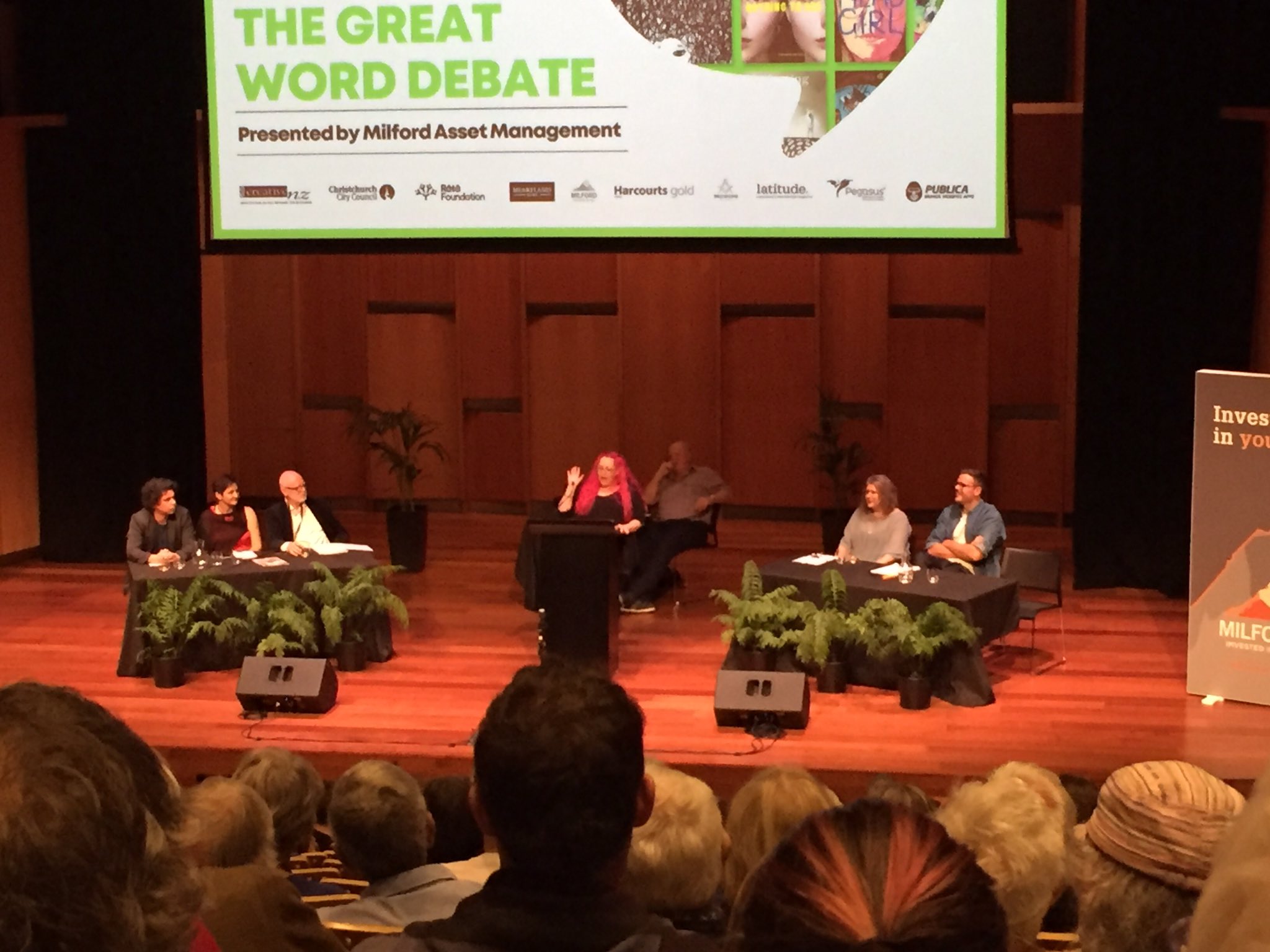 Paula Morris, opening for the negative, began with: " Having had the worst of years, plaster, moonboot and crutches..." -(This is something I can truly identify with as having had the tirade of the above myself twice in 3 years)- "...change is part of  continuum, human nature never never changes."
She also commented on Toby Manhire's: "Poldarkian Demeanour with his good sense, good hair." I loved this description.
We then moved onto Hana O'Regan, a beguiling force to be reckoned with. She began with:
"Thank you for telling me the future has hope even though there is huge damage to our ecosystems and biodiversity. David Attenborough has noted the rate of change to these systems, acknowledge the world has changed, biodiversity has changed who could argue with David Attenborough?"
Hope has not gone. This was delivered with much flailing of arms to illustrate her points.
Guy Williams was up next:
" In case you don't know me I'm a TV star both as a host and victim of Piha Rescue." 
Puffing out his chest and standing to his full height of 6 foot 5 inches. he then went on to comment about Hana desperately panhandling to Christchurch like Donald Trump does Nationalism.
"change can bring knowledge or less change."
Commenting on the rebuild of the Cathedral:
"I discovered its only 140 years old there are internet cafes in Europe over 2000 years old!"
Eliciting a roar from the crowd, while keeping with the Christchurch/change theme: " You could be in Europe and meet a man from Christchurch and he would introduce himself: "Hi I'm Tom what school did you go to?" Is this not a repetitive joke? 
The " stunningly clever" (to quote Tom Scott), Toby Manhire, leads on: "Paula and Siouxsie teach at the University of Auckland which is a surprise to their students and a surprise Guy Williams can remember his own birthday."  
Does he believe it is the end of the world as we know it?
"When we stub our toes we think its the end of the world. Preppers need then to build bunkers for the coming apocalypse in Queenstown. No , no the end of the world, the end of the world as we know it, we are not ready for"
Concluding is Dr Siouxsie Wiles:
"I can tell you when the world will end as we know it and how. In the meantime we will adapt as we have done for billions of years, as we have a lot of time left".
She blinded us with science on asteroids hitting the sun and so on which could create a vacuum, a giganteum event sucking in everything in its  path and we wouldn't have time to debate end of world as we know it.
When it came to summarizing  Paula asked for a vote of common sense, while Tom put forth that we could debate over and over again for eternity as big bangs occur over and over again.
People then voted encouraged by MC Joe Bennett in any way they chose. Much stamping of feet, cheering, and encouragement concluded in a draw. A great evening of a sold out event with much laughter and joy at the wit and presentation of the debaters.
Find work in the catalogue by:
WORD Christchurch
Clare, Tūranga