Matuku Takotako is the original Ngāi Tahu name for Sumner Beach and a name that strongly reflects the community and enhances the local iwi identity. It also recalls a Polynesian tradition associated with Tawhaki, who is famed for having ascended to the heavens in the pursuit of knowledge, which is fitting as it reflects the nature and purpose of the building.
Listen to the Māori name [139KB MP3]
Former Sumner Library: Te Kete Wānanga o Kōhua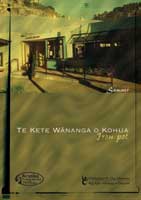 The former library building in Sumner was on the same site as the current facility Matuku Takotako: Sumner Centre which was built in 2016/2017, and was given the Māori name Te Kete Wānanga o Kōhua.
The landing place at the mouth of the Avon and Ōpāwa rivers was known to early European people as 'Go-ashore', which was the whalers pronunciation of the Māori word 'Kohua'. These early whalers and sealers applied this name for a three-legged iron pot Māori used for cooking their meals.
Another well-known landmark to Māori is Rapanui Rock that stands vigilantly at the entrance to the Ōpāwaho - Ōtākaro (Heathcote/Avon) estuary. This distinctive rock, known as Rapanui since Waitaha times, is one of the oldest landmarks of Te Wai Pounamu (South Island).
Rapanui means "the great sternpost". It marked the way into the estuary, a guiding stone indicating the vast wetlands beyond that in pre-Pākēha days extended across the present site of Christchurch as far as the shores of Waihora. This area was once rich in shellfish, flatfish and bird life and was a famous source of eels, waterfowl, and various types of harakeke.
Moa Cave or Te Ana o Hineraki originally consisted of three chambers, the biggest of which was over 30 metres long, but the extent of the cave has sadly been reduced as a result of road works and extensive European excavation during the 19th century. Moa bones and eggshells, along with bones of seals, birds and fish, shellfish and many Māori taonga were discovered and removed from the cave during that time. Te Ana o Hineraki would not only have provided shelter in poor weather but also once served as a safe storage place for many valuable treasures.
Sumner was named in 1850 after Rev. John Bird Sumner, Primate of England, and Archbishop of Canterbury, 1848. Charles Crawford is thought to be the first European to work at Sumner. He was a whaleboat owner who transported materials from Lyttelton under contract to build a store for Captain Joseph Thomas, the advance agent for the Canterbury Association. In 1954 it became part of Christchurch City.
Listen to the Māori name of the former Sumner Library [63KB MP3]
Related pages