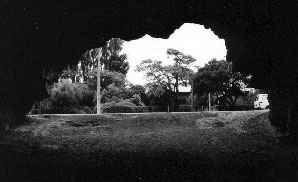 Te Ana o Hineraki (Moa Bone Point Cave) gapes dark jawed at the side of the main road to Sumner.
This large deep cave probably provided shelter for some of the earliest people to arrive in Aotearoa.
It was most likely part of a larger settlement located in the nearby sand dunes and its main period of occupation is thought to have been around the 14th century AD.
Te Ana o Hineraki originally consisted of three chambers, the biggest of which was over 30 metres long, but the extent of the cave has sadly been reduced as a result of roadworks and extensive European excavation during the 19th century.
Moa bones and egg shells, along with bones of seals, birds and fish, shellfish and many Māori taonga were discovered and removed from the cave during that time.
Te Ana o Hineraki would not only have provided shelter in poor weather but also once served as a safe storage place for many valuable treasures.
Following the earthquakes of 2010 and 2011 the cave systems of Te Ana o Hineraki have been permanently closed as a safety precaution.
See also: Te Rae Kura (Redcliffs)
Sources