When a child turns four years old, they can come into any Christchurch City Library and pick up a free Ready for Reading pack. The pack contains a special bilingual, purpose written book Storytime Te Wā Kōrero, and stickers.
Download the Ready for Reading booklet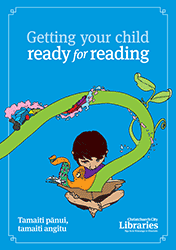 [1.44 MB PDF]
Important skills
There are six important skills that your child will need to learn to read. Children can begin to develop these skills from birth.
Print motivation: interest and enjoyment in books.
Vocabulary: beginning to know the names of things.
Print awareness: noticing words on a page and understanding how to follow them, knowing how to hold and treat a book.
Letter knowledge: recognising and naming letters, recognising letter sounds.
Phonological awareness: awareness of sounds and rhymes and beginning to understand the link between written and spoken words.
Narrative skills: describing things and events, learning how to tell stories.
Tips for sharing books
Talk, sing or make noises with the pictures.
Let the child turn the page.
Show the front of the book.
Create voices with the characters.
Use child's name or other, for the characters.
Ask questions about the pictures and story.
Make your own books.
Make it a regular time.
Visit these pages for more information and resources to use at home
How to read to children

What you need
Children's books
Time
Enthusiasm
General guidelines
Position yourself so both you and the children are comfortable.
Allow your listeners, especially younger children, a few minutes to settle down and get ready to hear the story.
Mood is an important factor in listening. Create anticipation.
Use plenty of expression and change your tone of voice to fit the dialogue.
Adjust your pace to fit the story. During a suspenseful part, slow down, draw your words out and bring your listeners to the edge of their seats!
Be enthusiastic. Read stories that you enjoy yourself – your dislike will show if you read books that you don't like.
Why create readers?
Readers are better writers.
Readers get better jobs.
Exposure to early reading experiences can increase IQ.
Good readers acquire second languages more easily
What makes a good reader?
Reading aloud to a child from birth.
Modelling reading daily.
Exposing them to books and stories.
How to help children love what they read
Set an example – read what you love and love what you read.
Slow down and find the time.
Read aloud.
Have books in lots of places.
Don't turn it into a vocabulary lesson.
Read a variety of books.
Go to the library and discover…
Websites
For kids
For adults
Photos from the Ready for Reading launch
Photos from the launch at Aranui Library, Wednesday 13 May 2015.
[alpine-phototile-for-flickr src="set" uid="126510258@N06" sid="72157652707575756" imgl="fancybox" style="gallery" row="4" grwidth="600" grheight="400" size="500" num="12" align="center" max="80" nocredit="1"]