Programmes include stories, music, movement and rhymes for children aged 2 and over. Wā Pēpi: Babytimes is for babies and under-2s. Kōrero pukapuka, pūoru, korikori.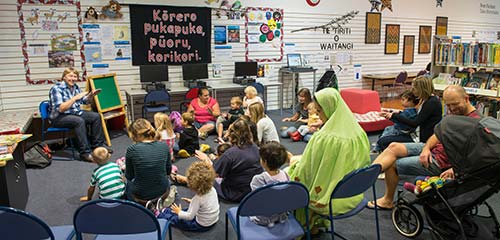 2020 times
Some sessions are only on during term-time, but others take place in the holidays.
Book now for a free, fun interactive storytime, designed for children, ages 3-9 who are on the autism spectrum or have multisensory needs.These free sessions include stories, songs, movement and play in a smaller setting and is limited to 8 children.Children must be accompanied by a caregiver and bookings are essential.
Phone 9417923 or email library@ccc.govt.nz to book. Sensory Storytimes will take place at Ngā Purapura / Activity Room, Hapori | Community, Level 1, Tūranga.