This page links to library services and useful information for parents and families.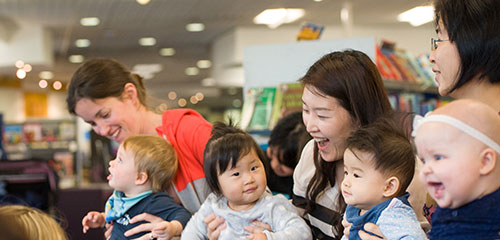 Find out everything the Library can offer to preschoolers (and their adults).
Our policies on unattended children in our libraries.
Includes programmes for kids and preschoolers.
CINCH lists parenting courses, support organisations, and school holiday programmes.
Resources to help you choose a school for your child and get them ready to start school.
Helping kids to read
In our learning section, we have guides to helping your children learn to read:
Helping your child to learn to read is not just about skills, it's also about enjoyment, encouragement and developing confidence.
When your child turns four the library will give them a Ready for reading pack for free.
Tips for sharing books with preschoolers, including babies and toddlers.
We also have reading lists for children including:
A list of books to help prepare children for a new baby.
A list of books to teach preschoolers about mathematics concepts.
A list of books to teach preschoolers about scientific concepts.
To mark 150 years of Christchurch City Libraries, the Children's Library Team created a list of the Top 5 Read Alouds for every decade the Library has been open.
Christchurch City Libraries has an outreach programme for parents. Our Outreach Librarians are able to visit your centre or parent group to enrol children as library members, share tips on reading to children and describe what we have to offer parents and children. Please contact us to make a booking, or to have a Learning Party.
Information for teenagers
CINCH lists support organisations for teen parents and parents of teenagers.
Books and reading resources for teens.