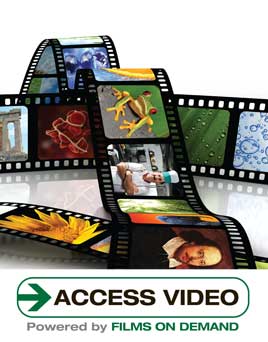 World-class documentaries, award-winning educational films, and helpful instructional videos on every known subject.
Key Features
Access Video contains over ten thousand titles for online streaming. The videos can be watched as a whole or just in  segments. Some titles even have transcripts so you can read along if your hearing is impaired. You can search this collection by:
Keyword – see what pops up from a word of interest;
Subject index – from anthropology to music and dance to world languages;
Producer index – check out what the BBC, Parthenon Entertainment or Video Education America have to offer;
Advanced search - offers a variety of options such as dates, video type, language, if it is transcribed or not;
Calendar - view a month-by-month list of key events. If you locate an event that you are interested in, you can simply click on that event to view a list of titles that relate to the event. For example the 6th of March is Michelangelo's birthday. Hit on the link and it will lead you to numerous videos on Michelangelo;
Standard - this is to select videos that correlate to certain educational standards. They do not have New Zealand standards listed but do have Australian.
Use at a library or enter your library card & password/PIN
More Information
With Access Video you can set up your own "My Films" account using your own email address and password. This allows you to set up:
My favourites – save content to customized folders using the "Add to" page tool;
My playlists – you can add video, audio and custom segments to playlists to share with others using the "Add to" tool. Please note: users who you send this content too may have to have a library card number and password/PIN to be able to access it;
My custom segments – save any custom segments you have created from any videos;
My saved searches - save simple or complex searches you have performed, right from the search results page;
Email alerts based on interests.
Basic system requirements
If you are experiencing issues with videos, please make sure you meet all minimum requirements:
Windows
Processor: 2.33GHz or faster x86-compatible processor or x64 1.6-gigahertz (GHz) or higher processor.
Operating System: Windows 7, Windows 8.
Browser: Internet Explorer 10 (or newer), Firefox, Safari 8 (or newer), Google Chrome.
May require Flash - test your version here
Mac
Processor: Intel Core™ Duo 1.83GHz or faster processor.
Operating System: Mac OSX v 10.6 or higher.
Browser: Firefox, Safari 8 (or newer), Google Chrome.
May require Flash - test your version here