Located on He Hononga | Connection, Ground level, Tūranga is New Zealand's largest digital touchwall.
Please note: The Discovery Wall will not in use during Covid-19 restrictions. The Discovery Wall website can still be accessed during this time.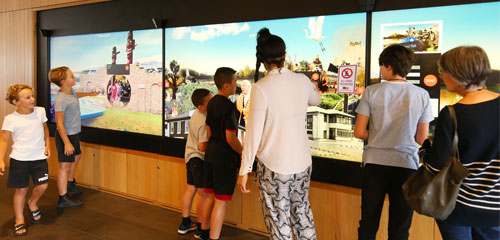 The Discovery Wall – a touch-sensitive, digital representation of Christchurch – lets you swipe your way through a virtual world. Discover images, videos and text relating to the city's unique history and identity, or upload your own stories, photos and videos to the Discovery Wall website.
The Discovery Wall features a digital cityscape made up of about 1000 current and historical images sourced from photo archives spanning Christchurch City Libraries, the Christchurch Star, and submissions from the public including entries of the Christchurch Photo Hunt.
The Discovery Wall also has a smaller, mobile 'sibling' that can travel to schools, clubs and rest homes, allowing as many people as possible to interact with it and upload their content, enriching Christchurch City Libraries' digital collection for all.
The Mobile Discovery Wall will be hosted at a different library each month. See our events calendar for more details.
Related pages