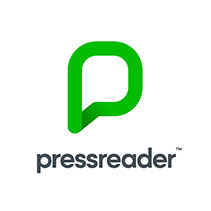 Online access to today's newspapers and magazines from around the world in full colour in their traditional format and layout including complete editorial content, graphics, advertising, classifieds and crossword puzzles.
Features
Over 6,000 newspapers and magazines from over 100 countries in 60 languages
No limits to how much you can read
90 days of back issues and the ability to print, email and share individual pages and stories.
Keyword search across all titles
Browse by country, language or category
Access to a range of New Zealand newspapers (some New Zealand titles are available only in libraries – NZ content on PressReader)
Use at a library or enter your library card & password / PIN
Getting Started
Login in by clicking use PressReader now, use your library card and pin (if you are not at a library) and you should get a hotspot for a week.
To get more out of PressReader you can create an account.
Click on sign in
Select Library or Group

Search for Christchurch City Libraries
Enter your library card & password / PIN
You will then be prompted to enter your name, email address and a password.
Next time you can sign directly in, using your email address and password.
Note: It is best to use the link from Christchurch City Libraries website to get to PressReader so it knows your account is linked to Christchurch City Libraries.