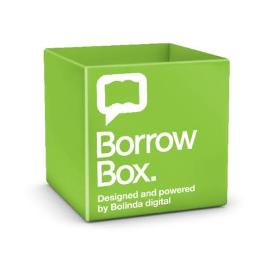 Downloadable MP3 fiction and nonfiction eAudiobooks for adults, young adults and children.
Access available for Christchurch residents only*.
Key Features
BorrowBox is an easy to use platform that allows you to select and download eAudiobooks to your computer or any mobile device which is compatible with MP3 audio files. Powered by Bolinda Digital, BorrowBox has a wide selection of titles including lots of Australian and New Zealand titles. With BorrowBox you can:
Download up to 10 titles at a time. (Checked out for a maximum of two weeks);
Return titles once you have used them;
Renew titles up to two times (if there are no holds);
Place holds on eAudiobook titles (Please note that holds count towards the number of items you can check out. For example two holds means you can only borrow eight titles).
Borrow with your library card and password / PIN.
Getting started…
To get started all you will need is an internet connection, your email address and library card number and password/PIN.
The BorrowBox apps allow mobile device users to download eBooks and eAudiobooks directly onto their smart device. For users without a compatible BorrowBox device - you can download eAudiobooks directly to your computer.
App Information
These apps are available in iOS (Apple) from the App Store and Android from Google Play.
Please note that due to Amazon's strict licensing restrictions, BorrowBox titles are not compatible with Kindle reader devices. Kindle Fire users can install the BorrowBox app for the Kindle Fire.
Create a new BorrowBox account
Click on 'Sign in'
Sign in using your library card number
Enter your password/PIN
Click 'Sign in'
Your account will list eAudiobook selections and your loans, reservations and loan history. It is from here that you can renew books, return them early or cancel holds. The titles will automatically delete at the end of the loan period, so no need to worry about overdue charges.
How to borrow and listen to an eAudiobook
Browse and select an eAudiobook title by choosing 'Borrow' and then 'Confirm Loan'. A loan confirmation will be sent to your email address.
At this point you can continue browsing or click the download button. You can choose to download an eAudiobook in parts or as a single download. If you get a pop-up to Open, Run or Save your download, make sure you select Save, otherwise the eAudiobook will not save to your computer properly.
Your eAudiobook will download as a .Zip file which is used to compress large files. To 'unzip' the file and listen to your eAudiobook in your ….
PC – Locate your download eAudiobook folder, right click and select extract all, then follow the promps to finish unzipping.
MAC – Locate your eAudiobook folder, then double click to unzip (we recommend using Safari as your browser as unzipping occurs automatically).
To listen to your eAudiobook in …
PC using iTunes: Open iTunes, drag and drop the unzipped folder into Music, then listen or sync with your iPod or iPhone.
PC using Windows Media Player: Open Windows Media Player, select Music, drag and dropt the unzipped eAudiobook folder into main window, then listen or sync with your portable media device.
MAC using iTunes: Open iTunes and drop unzipped eAudiobook folder into Music, then listen or sync with your iPod or iPhone.
Portable Media Device: connect and open your portable media device, then drag and drop the unzipped eAudiobook folder into your device.
You can use other media players such as VLC if you wish.
Enjoy!
More Information
Access available for Christchurch residents only: non-city members can access all electronic resources except where specifically excluded by the terms of Christchurch City Libraries' contractual agreements with those suppliers. Our licence agreement only allows for residents of Christchurch City to access this resource. For more information see our Membership policy.