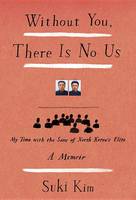 There are only patchy representations of North Korea in our popular culture - comedians dressed up as Kim Jong-il, Team America, that recent Interview movie. In a world where the Iron Curtain has come down, it is still Unknown. But Suki Kim knows North Korea, she's been there many times. Suki visited Christchurch on Sunday 30 August as part of the WORD Christchurch Shifting Points of View events in the Christchurch Arts Festival. Her topic: On North Korea: Inventing the Truth and she's in conversation with Paula Morris. The event was recorded.
Her book Without you, there is no us: My time with the sons of North Korea's Elite. A Memoir unveils what has been hidden. It starts with the death of Kim Jong-il in 2011 and then goes back into history, and into Suki's time as a teacher at PUST- the all-male Pyongyang University of Science and Technology.
If this were the sort of story that invites readers to nod with empathy and walk away both satisfied and educated, I would say that I travelled full circle. But in truth my journey was barely half a circle, a sad one that could never be completed, because those who were at the center of the harrowing history are almost certainly long dead, or old and dying, and time is running out before their stories are lost in the dust of the past. (p. 11)
Suki shows us Pyongyang as a place of rules, bureaucracy, and regimentation. North Korea is full of constraints - and the constriction is political, emotional, and intellectual. On some of their school trips, there are glimpses of starving people, and forced labour. It is a place where even the sons of the elite have an existence that is controlled, and devoid of freedom. Everyone is watched, you are likely to be spied upon, and the very words you utter must conform or you might be reported. Suki wants to open the world up to her students, but knows she can't:
It was a fine dance. I wanted to push them, but not too much; to expose them to the outside world, but not so subtly that no one would notice... Awakening my students to what was not in the regime's program could mean death for them and those they loved ... Awakening was a luxury available only to those in the free world. (p. 70)
Suki teaches, but she is continually taking notes for her book. She observes her students open up, and how some lie and deceive. I was swayed by her emotional currents:
And so I went from love to pity to repulsion and distrust, then back to empathy and love again, and these switches of feeling were confusing. I reminded myself that I did not come from a place where mind games were a prerequisite for survival to such an extreme degree, a place where the slightest act of rebellion could have unimaginable consequences. (p. 134)
This is a book that could easily be claustrophic. But it isn't, because she provides such captivating views of the Koreas North and South, and family history, and her own emotional landscape. Her book will make you understand North Korea in a new way.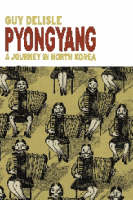 If you want to read more about this strange and fascinating place, I recommend the graphic novel Pyongyang: A Journey in North Korea by Guy Delisle. It captures that same alienness and constriction found in Suki's story.
There seems to be a flurry of new books about North Korea. We want to understand.