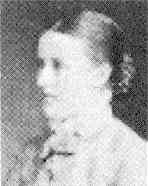 Edith Grossmann came from Australia with her family, the Searles, in 1878 and was educated in Invercargill and at Christchurch Girls' High School and Canterbury College, graduating M.A. with first class honours in 1885.
She was a teacher at Wellington Girls' High School when her first novel was published in 1890. Angela - A Messenger was a tragic melodrama set in the Wairarapa, Wellington and Sydney, but she developed her feminist vision and mode of expression in two further novels. In Revolt (1893), and Hermione, A Knight of the Holy Ghost (1907) dealt with the subjection of women in marriage. Hermione Carlisle, a feminist theorist and activist, is the heroine of the two novels, which warn of the dangers of a reaction against the 'Woman Movement' and thus a 're-subjection' of women. Her final book, The Heart of the Bush (1910) was a more conventional love story set on a South Island high country farm.
For much of her life in Christchurch, Edith Grossmann worked for the cause of women's suffrage and became a leader of the Canterbury Women's Institute. She married a lecturer at Canterbury College, Joseph Penfound Grossmann, who was sent to jail for defrauding a professor. Their one child was handicapped and the marriage was reputedly unhappy. On her death in Auckland in 1931 her obituary noted the examples she had set of "an intellectual life lived long and consistently and of service to shining ideals".
Sources
Related Links