Ursula Bethell 'digging very earnestly' in her Cashmere garden, paused sometimes to look at the majestic Canterbury landscape, changing with the weather and the seasons, and reflected on life and its impermanence. The poems that resulted from her observations, meditations and sympathies helped us look at ourselves and our country with a clearer vision. 'New Zealand wasn't truly discovered until Ursula Bethell… raised her head to look at the mountains ', wrote a contemporary poet, D'Arcy Cresswell. 'Almost everyone had been blind before'.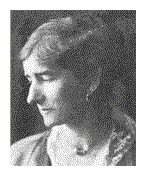 Ursula Bethell came from a privileged family. Her education at Christchurch Girls High School was followed by finishing schools in Europe and the study of music and painting in Dresden and Geneva. She undertook charitable work in London and returned to Christchurch after the First World War to live in Rise Cottage, in Westenra Terrace, with her companion Effie Pollen, and between her 50th and 60th years produced numerous beautifully crafted poems rich in content and austere in form, illuminated by her religious outlook, humanity, scholarship and perceptiveness. A new awareness of the country was beginning to pervade New Zealand writing in the twenties and in her search for meaning and identity she led the way for a new generation of poets.
Though reserved and retiring, Ursula Bethell was at the centre of the city's cultural and intellectual life of the period and she was finally persuaded to publish her work, at first under the pen name of Evelyn Hayes. One of her loveliest poems, 'The Long Harbour', first appeared in The Press and gave great satisfaction to the literary editor, J.H.E. Schroder, who remarked that nothing the paper had printed, not even Butler, gave it such cause for pride.
Four major collections of her work were published: From a Garden in the Antipodes (1929), Time and Place (1936), Day and Night (1950) and Collected Poems (1950), the latter (after her death) under her own name.
Sources
Related Links