Sunday Times Digital Archive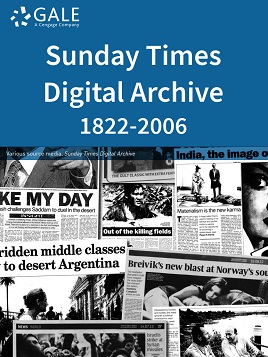 This archive brings two centuries of news together in one resource, providing the complete run of the newspaper up to 2006, including all of its supplements. It allows users to easily explore over 180 years of news, investigative reporting, and commentary from Britain's premier Sunday publication.
Famous for its investigative journalism, The Sunday Times were responsible for revealing the thalidomide scandal in the 1960s and the Israeli nuclear program in 1986. They haven't always been so clever though as it was caught up in one of the greatest frauds of the 20th century, when they signed a deal in 1983 to serialize the newly discovered Hitler Diaries which were quickly discovered to be forgeries. Circulation, however, soared.
The newspaper has always featured a regular births, deaths and marriages column. In the nineteenth century there was a regular Freemasonry column, as well as publishing details of the graduates from Sandhurst – so an excellent resource for family historians.
Despite the similarity of names, The Sunday Times was an entirely separate paper from The Times until 1966, when both papers came under common ownership. To this day, The Sunday Times remains editorially independent from The Times.
You can search this eResource through Gale Primary Sources which allows you to simultaneously search many other historical magazines and newspapers at the same time including The Times Digital Archive.