The Together We Read digital book club connects readers in Australia and New Zealand through public libraries accessing the same eBook at the same time, and includes online discussions with other readers about the book. During this two-week programme, there will be no waitlists and no holds for the selected eBook and only requires a library card to get started. Download Libby to borrow the free eBook from your library using your phone or tablet or go to OverDrive.
Together We Read runs from 1 to 15 September and readers can enjoy the Scrublands by Chris Hammer in eBook or eAudiobook with no waitlists or holds.
Scrublands by Chris Hammer
Winner of the 2019 CWA Dagger New Blood Award for Best First Crime Novel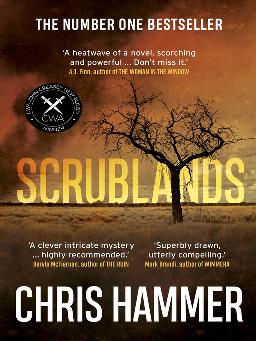 In an isolated country town brought to its knees by endless drought, a charismatic and dedicated young priest calmly opens fire on his congregation, killing five parishioners before being shot dead himself.
A year later, troubled journalist Martin Scarsden arrives in Riversend to write a feature on the anniversary of the tragedy. But the stories he hears from the locals about the priest and incidents leading up to the shooting don't fit with the accepted version of events his own newspaper reported in an award-winning investigation. Martin can't ignore his doubts, nor the urgings of some locals to unearth the real reason behind the priest's deadly rampage.
Just as Martin believes he is making headway, a shocking new development rocks the town, which becomes the biggest story in Australia. The media descends on Riversend and Martin is now the one in the spotlight. His reasons for investigating the shooting have suddenly become very personal.
Wrestling with his own demons, Martin finds himself risking everything to discover a truth that becomes darker and more complex with every twist. But there are powerful forces determined to stop him, and he has no idea how far they will go to make sure the town's secrets stay buried.
A compulsive thriller that will haunt you long after you have turned the final page.