A collection of primary source material that captures the foundation of women's movements, struggles and triumphs.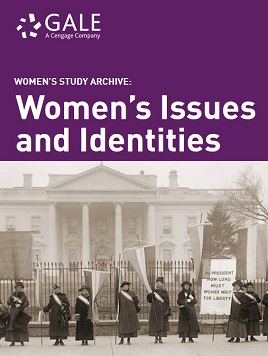 Key Features
As a comprehensive academic-level archival resource, with a focus on the social, political, and professional achievements of women throughout the nineteenth and twentieth century.
Includes more than one million never-before-digitized pages of primary source material.
The archive is cross-searchable with other Newspaper and periodical archives using Gale Primary Sources. See About Gale Primary Sources for a full list of publications.
Use at a library or enter your library card and password / PIN.
More Information
Discover content from resources like The British Library, New York Public Library, The National Women's History Project, the London School of Economics, Women's Library and many more.Covers important topics including:
the History of Feminist Theory and Activism;
domestic culture;
lay and ordained church women;
women in industry;
women's sexuality and gender expression;
women's education;
women's movement;
women's health and mental health;
women and law;
women and the control of their bodies;
women's roles and interactions within society.