Explore our Antarctic connections
Christchurch City Council has a page on our Antarctic connections including a document listing places with links to the South Pole.
The Canterbury Museum has an extensive collection of Antarctic historical resources. The International Antarctic Centre has exhibitions showing past and present life on the ice.
Find information about Antarctica in our collection
Antarctic history resources
A Digital NZ set of images from the first Polar explorations.
Explore historical news stories related to the South Pole and Antarctica.
From the Antarctica NZ Digital Asset Manager (ADAM)
Nigel Roberts. Te Ara – the Encyclopedia of New Zealand, updated 24 July 2012.
New Zealand History Online (Ministry for Culture and Heritage), updated 3 February 2012.

Captain Robert Falcon Scott Statue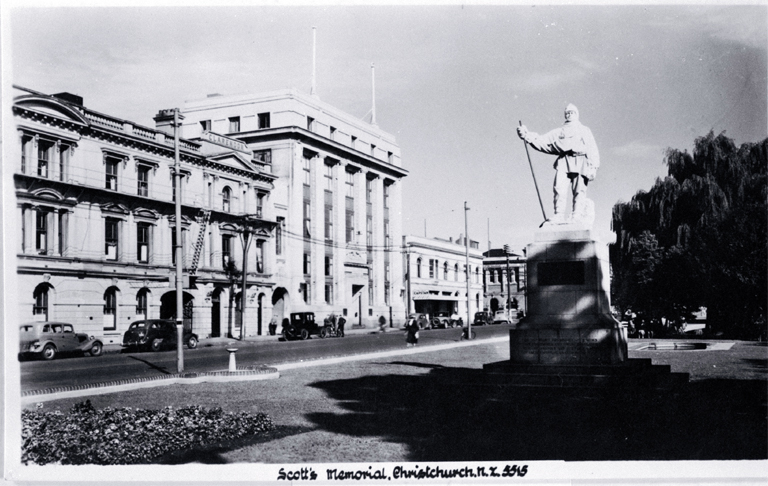 A statue of Captain Robert Falcon Scott, CVO, RN, is on the river bank at the intersection of Oxford Terrace and Worcester Street. There is information on the statue on the Christchurch City Council website. There is also more about the statue in Public art in Christchurch, a study by the Robert McDougall Art Gallery.
It was sculpted by Scott's widow, Lady Kathleen Scott, and purchased from her by the Christchurch City Council. It was to be made in bronze, but when work started in 1915 World War I was underway and all available metal was being used for armaments.
It serves as a memorial to those who died with Scott on his return journey from the South Pole in 1912, and bears his last message:
I do not regret this journey, which shows that Englishmen can endure hardships, help one another, and meet death with as great a fortitude as ever in the past.