I am totally hooked on small houses, cabins log and otherwise, tree houses, yurts, ex-railway carriages, caravans... essentially dinky living and I'm not alone I don't think. Apart from the sheer ingeniousness required to squeeze everything into the limited space, what is that gets me?  Is it some basic psychological need coming from cavewoman days that cons me into thinking bushcraft living could be for me? Hunter Gatherer or nesting urges? Me the card carrying urban dwelling wimp who is not a big fan of the dark ?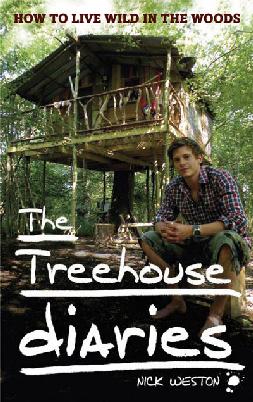 I read The Tree house Diaries by Nick Weston from cover to cover. Devoured his knowledge of shooting and hunting game, the coppicing lessons needed to keep his vege garden safe from the farmer's fat porker, how to build the composting loo, the pizza oven and ground oven. Never mind the actual building of his gorgeous treehouse with Bertha the stove (old oil drum) heating his recycled eyrie.
I was with Nick as he ate the game.  He knows his onions and his toadstools, is an extremely resourceful young man, writes a good diary, and brews a decent elderflower wine and nettle beer. Oh and he is crackerjack at foraging. If you're small-living fixated — whether or not you think you want to build a tree house — you really might after reading this.
Cabin Porn is exactly what it says it is.  For lovers of cabins, this is the real deal — more than 200 cabins handpicked for your inspiration, as well as 10 special stories and photo collections.
Zach and friends found the perfect setting for a group cabin, brought the land, and built their cabin. The first night in the cabin, the workers lay on the floor in their sleeping bags as one friend read to them all. Bliss!
As the years have passed, they have added extra cabins and a large hot water tub — all ingeniously built and heated.  The second part of the book is given over to shots of huts and cabins in the most stunning scenery and treehouses.  My favourite is attached to its host tree by upright 2 x 4s held in place by a metal band. The treehouse moves a little in time with the tree and the tree suffers not. Apparently the house has slid down the tree a little but he's confident it will hold on until the tree expands  and stops any more slippage.
Did I mention it is mighty high up and the owner got fed up with trekking up and down the extension ladder so he installed a lift. He sits on his mother's old bike and goes up and down on a pulley system with counterbalance weights. Ingenious.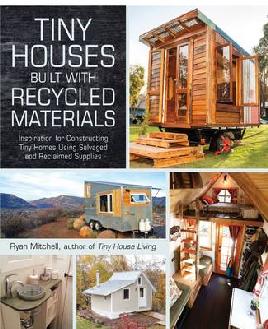 Tiny Houses built with Recycled Materials is by Ryan Mitchell. He obviously has the bug also as he has written more than one Tiny House book but this one is my favourite. It's the recycled materials that complete the whole thing. The beauty of these gorgeous wee homes, most of them mobile, come with layout plans and a description of their utilities.
Part I has advice, apps, design tips, likely sources for your reused materials, even how to get the nails out of old wood easier. The sheer artiness and design brilliance of these homes makes my heart sing.
Tiny Houses Built With Recycled Materials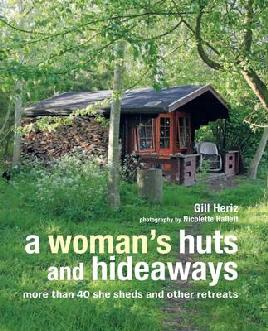 But wait there's more, we have one for the girls: A Woman's Huts and Hideaways. This time they are less mobile and more getaways: yurts, a sleek silver Airstream caravan from the US all tarted up, a beach hut, a straw bale story telling hut, A MUD HUT!, an old ice cream van, a truly beautiful gypsy caravan, a converted summerhouse and garden shed. This one is more coffee table book than a how-to. But definitely worth a read whilst you're tucked away in your quiet spot.
Have you had the courage to break out and live tiny? Do these ideas make you want to start rummaging for secondhand material? Take another look at the garden shed? Or just dream like me?
Read more: