When I told various people we were thinking of getting a couple of hens they assured me we would love having them. My thoughts were more along the lines of: chooks = garden turned over and manured = eggs. Not 'chooks - I'll love having them in our life'.
The first few nights of the fat bottomed girls being in residence in the coop involved our flatmate climbing into the coop, showing the girls where the roosting bar was and physically lifting them into place. A new ramp was made, the f-b girls learnt to motor up it in no time and the flatmate went back to having a life.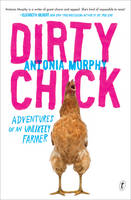 We are quite besotted with the big footed raiders already, but due to space restraints we've stopped there. Otherwise there would be a couple of pigs grubbing around somewhere as per Antonia Murphy, author of Dirty Chick. She moved to New Zealand from the US, her pipe dream being to have a bit of land, some chickens etc. Things get a bit out of hand and ever so slightly stressful as her stock wander the neighbourhood amongst other things. Let's say she takes to country life with gusto... I wouldn't say she calmly bestrides the chaos, but she copes with great humour and I am quite envious of her menagerie.
The Chicken Chronicles is more a memoir of a journey.
Alice Walker on the other hand had been raised with chickens for eggs and meat and finding herself living in Mexico realised they were missing from her life. Enter Gertrude Stein, Babe, Glorious, Rufus and Agnes of God, turning her thinking to the interdependence of humans and the chickens.
Meanwhile at Chez Bishi, and  I can't say we weren't warned, Camilla and Priscilla have been escaping their carefully established playground away from my vegetable gardens and been caught scratching and grabbing with the odd guilty glance over the shoulder and then running away when in danger of being put back in the playground. The kids would never have got away with what these two chicks manage.
Are you thinking of taking on some egg laying devices? Still sitting on the roost perhaps? Afraid you might find yourself clucking round the garden with small feathered friends in tow? Take the plunge: you'll be in good company.