The third New Zealand Techweek is on from 20 to 26 May. What is it all about?:
New Zealand's technology and innovation sectors are growing rapidly, and Techweek fosters that growth by providing the national ecosystem with a week-long opportunity for connection and cross-pollination, using an independent platform to amplify New Zealand's unique and inspiring innovation stories to the world.
 

Techweek at Tūranga
Experience the awesome array of technology at Tūranga:
Open Studio
Visit our new audio and video production studio.
Monday 20 May 6.30pm to 7.30pm, Friday 24 May 10am to 12pm, Sunday 26 May 10.30am to 12.30pm. Free, drop in.
Discovery Wall
Explore our digital heritage collection available through our Discovery Wall and discoverywall.nz website. Monday to Friday 8am to 8pm, Saturday and Sunday 10am to 5pm.
Free, drop in.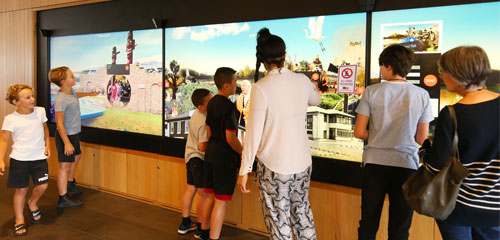 Visit a Technology help drop-in session
Get help with specific issues such as using email, searching the internet, using the library catalogue, using electronic resources and any other general technology related queries.
Tuesday 21 May 1pm to 2pm.
Free, drop in. 
Imagination Station: Have a go with LEGO Mindstorms and FIRST LEGO League Challenge
Imagination Station will be encouraging kids and their parents to be innovative in their thinking as they try to solve problems with LEGO Mindstorms. There will be two "challenge mats". One with challenges themed around food production, the other with challenges themed around human anatomy. Expert staff on hand will help you learn the basics of LEGO Mindstorms as you see what's possible with this awesome system. No bookings required, but expressions of interest encouraged via the Facebook event. Caregivers must be present for children under the age of 14.
Saturday 25 and Sunday 26 May 10am to 5pm, Auaha Hīhī / Spark Place, He Hononga | Connection, Ground floor. Free, drop in.
There is a session on Immersive storytelling for Tourism, Brands, & GLAM (Galleries, Libraries, Archives, and Museums) Tuesday 21 May at Tautoru / TSB Space, Hapori | Community, Level 1, 5pm to 7pm. Free, bookings required.
Technology help drop-in sessions (free)
Get help with specific issues such as using email, searching the internet, using the library catalogue, using electronic resources and any other general technology related queries:
Te Hāpua: Halswell Library Tuesday 21 May 2pm to 3pm
Hornby Library Tuesday 21 May 11am to 12pm
Ōrauwhata: Bishopdale Library Thursday 23 May 10am to 11am
Spreydon Library Tuesday 21 May 10.30am to 11.30am
South Library Wednesday 22 May 11am to 12pm
Shirley Library Thursday 23 May 3.30pm to 4.30pm
Upper Riccarton Library Thursday 23 May 11am to 12pm
Tūranga Tuesday 21 May 1pm to 2pm
More Christchurch events
Events in Ōtautahi include:
Smart cities - What are they and how can we get there? Signal ICT Graduate School, Epic Centre, Tuesday 21 May 2pm to 3pm
Diversity and inclusion in tech Ara, Tuesday 21 May 4pm to 6pm
Christchurch: Smart city of the future College of Engineering, University of Canterbury Tuesday 21 May 5.30pm to 7pm
Lightning talks 'Inspiring and Motivating People to Deliver Technology Innovation with Quality'. Ara, Thursday 23 May 5.30pm to 7.30pm
The Launch of Te Ōkaka: Centre for Growth and Innovation Ministry of Awesome HQ, Friday 24 May 1pm to 3pm.
The 3D basics! Basic intro to 3D Design, 3D modelling and 3D printing workshop YMCA 4C Saturday 35 May 10am to 12pm
Read the full list of Techweek events in Christchurch.
TechweekTV
This year's Techweek includes Techweek TV, a series of live, online video sessions broadcast on the Techweek website. From 9am—5pm every day of Techweek, these interactive panel discussions and presentations give all Kiwis access to the brightest tech minds in Aotearoa. Brought to you by Callaghan Innovationopens a new window. Includes:
Parenting in a social media age.
Innovation that's good for the world: Christchurch showcase.
Smart cities for a smart future: Christchurch.
Creative women in tech.
Celebrating Māori innovation.
Rocket Lab: Making space more accessible.


Find technology-related resources
Technology classes and sessions at libraries
Find out more about technology at Tūranga:
Connect with Techweek