New Zealand Sign Language Week 2020 will take place from Monday 4 to Sunday 10 May. Deaf Aotearoa organises this celebration of one of the country's official languages, New Zealand Sign Language (NZSL).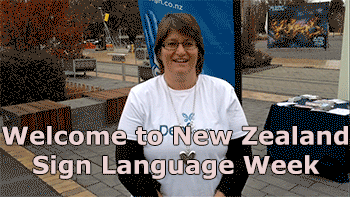 NZSL Week helps promote the language and aims to raise awareness about New Zealand's Deaf community. It also provides the Deaf community a chance to put their hands up and be heard, and to stand proud as Deaf as well as promoting their language and culture.
NZSL Resources
There are a range of useful New Zealand Sign Language resources on the Deaf Aotearoa website, including Let's talk booklets with 25 signs to learn at work, with your family, Māori concepts, for medical situations, and for the weekend.
Library resources


Other resources
Ministry of Education New Zealand in collaboration with Deaf Aotearoa, have produced a number of children's Ready to Read eBooks that use NZSL. They can be purchased from iTunes (for Apple devices) or GooglePlay (for Android devices). Titles include:
Hairy Maclary from Donaldson's Diary by Lynley Dodd
The King's Birthday, by Dot Meharry
Talking to Nanny by Jo Carson-Barry
The Ministry of Education also has Thumbs Up! An Introduction to New Zealand Sign Language, a resource supports the teaching and learning of NZSL as an additional language in English-medium schools.
The New Zealand Federation for Deaf Children is a useful website for parents.