Contents
Four ships, the Randolph, the Cressy, the Sir George Seymour and the Charlotte Jane brought the first organised group of settlers to the Canterbury Association's new settlement in 1850.
Departure
The four ships left England in September 1850 for Canterbury. Before they left, a public banquet and dance was held for those families who were buying land in the new settlement. A church service was held on 1 September in St Paul's Cathedral for all the Pilgrims, as they were called.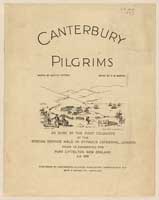 The Charlotte Jane carried about 154 passengers, Randolph 217,Cressy 155,and Sir George Seymour 227. Exact numbers are not known because the surgeons' lists and the shipping lists do not match, and some young children were not counted.
Colonists and emigrants
There were two main groups of Pilgrims — colonists and emigrants. Colonists were men who were able to afford to buy land in the new settlement. These men and their families travelled as cabin passengers. They would be the leaders of Canterbury for the first years.
Emigrants were farm workers, labourers and tradesmen, travelling in steerage. Their passage was either paid for by the Canterbury Association, or by their future employers, travelling in the same ship.
Cabin passengers paid £42 a berth, intermediate passengers £25 a berth, and steerage passengers £15. Each ship carried a chaplain, a surgeon and a schoolmaster, all paid for by the Canterbury Association. The doctor received 10 shillings for every passenger safely delivered to Lyttelton, but had to pay back 20 shillings for every passenger who died.
Life on board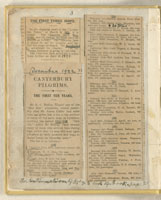 Steerage passengers were cramped in the space below the main deck. Single men slept in a bunk six-and-a-half feet long by two feet wide. Married couples had a slightly wider bunk (three-and-a-half-feet wide), and a canvas curtain for privacy. This space was used not only for sleeping, but also for storing anything that might be needed on the voyage — extra food, clothes, perhaps some books. There was not much fresh air and everything was damp.
Ships biscuits and salt meat
Emigrants had to bring their own bedding, clothing and anything else they might need. Basic food was provided — ship biscuits, salt meat, flour, rice and potatoes — but the steerage passengers had to cook it themselves, organised into groups, or messes to do it. A large table, which had been fixed to the floor in the middle of the steerage area, was for eating and general use. Any washing (of clothes or bodies) had to be done in a bucket of water.
Live animals were carried on board to provide food and milk.
Cabin passengers were slightly more comfortable. They were given more food, which was cooked for them by stewards, as well as milk from the ship's cow. Their cabins had more space and privacy.
Amusements and occupations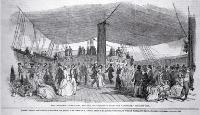 Despite seasickness, the passengers on the ships found different things to do so that the voyage would not be boring. Dancing and games on deck, writing letters and diaries, sewing, playing cards, even making model houses. Anyone who had an instrument and could play it was very popular.
A newspaper, known as the Cockroach, was put out on the Charlotte Jane.
Prayer meetings were held every morning and afternoon, with a full church service on Sundays. There were school lessons for the children on board.
Arrival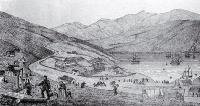 The Charlotte Jane anchored at Lyttelton at 10am on Monday, 16 December 1850, and James Edward Fitzgerald was the first of the Pilgrims to leap ashore. The second of the ships, the Randolph, arrived on the afternoon of 16 December, followed by the Sir George Seymour on 17 December, and the Cressy, on 27 December.
Sources
Related Pages
Canterbury pilgrims: sung by the first colonists at the special service held in St Paul's Cathedral, London, prior to embarking for Port Lyttelton, New Zealand, A.D. 1850.