19th Century UK Periodicals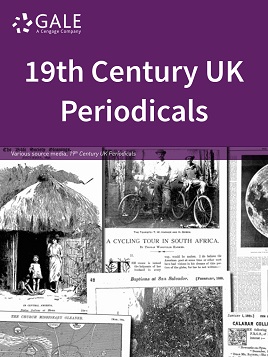 19th Century UK Periodicals is a collection of often rare online British magazines, journals and speciality newspapers that aim to provide an in-depth view of life in the Victorian age. Most of the material that is in this collection has never been published online before.
Part I: New Readerships: Women's, Children's, Humour and Leisure/Sport
The rapid increase in publishing reflects a growing reading culture as literacy, social mobility and leisure time become more noted in the 1800s. For example
Women's writing becomes more political , from Hearth and Home to the Women's Penny Paper, offering evidence of women's changing status;
Growing literacy rates see more publications devoted to children's entertainment and education with Boy's Own Paper and Good Words for the Young;
Satirical and comic titles, such as Punch and Figaro in London, offer insight into what made people laugh during these times;
Popular sports and hobbies, from gardening and horse racing to cricket, and golf start to figure in people's lives creating titles such as Baily's Monthly Magazine of Sporting, Theatrical, Literary and Fashionable World.
Part 2: Empire: Travel and Anthropology, Economics, Missionary and Colonial.
The Nineteenth century was a period of revolutionary change and expansion. Britain was one of the world's first industrial superpowers. This part contains access to important primary source materials from various locations. It covers topics such as:
the abolition of the slave trade within the British Empire in 1807;
reports of the first Opium Wars (1839-42);
responses to Queen Victoria's assumption of the title of Empress of India in 1876;
British perceptions of themselves and those they colonised - both at home and abroad;
European powers' 'scramble for Africa' in the 1880s and 1890s.
You can search this eResource through Gale Primary Sources which allows you to simultaneously search many other historical magazines and newspapers at the same time including the Illustrated London News Historical Archive.