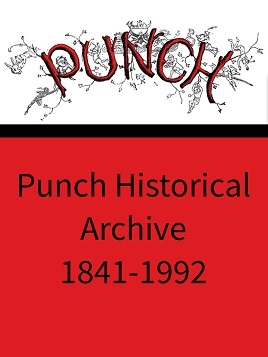 From 1841 to 1992, Punch was the world's most celebrated magazine of wit and satire. From its early years as a campaigner for social justice to its transformation into national icon, Punch played a central role in the formation of British identity—and how the rest of the world saw the British nation.
This archive covers such themes as
World War I and II;
Colonialism and the end of Empire;
Social change including the role of women;
Technology;
Public health and environment.
Often noted as the most famous magazine of humour, Punch published some of the finest comic writers in the English language – from W.M. Thackeray to P.G. Wodehouse. Its celebrated cartoons swayed governments and captured the vast shifts in life over two centuries. Punch's visual iconography became cultural reference points, establishing symbols like John Bull, Britannia and the British Lion firmly in the public imagination. See the cartoons by celebrated illustrators like Sir John Tenniel and Quentin Blake.
This fully searchable online archive contains approximately 200,000 pages from all issues of Punch between 1841 and 1992, including Almanacs and other special numbers, as well as prefaces, epilogues, indexes and full colour images.
You can search this eResource through Gale Primary Sources which allows you to simultaneously search many other historical magazines and newspapers at the same time including the Picture Post Historical Archive.