The Listener Historical Archive, 1929-1991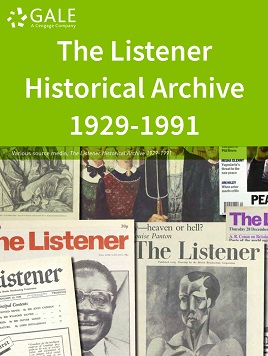 The Listener was a weekly magazine established by the BBC to reproduce and expand on the content of its broadcast and television talks. The Listener Historical Archive 1929-1991 provides an invaluable resource for those researching the arts, politics, science and culture in the twentieth century.
This archive provides complete run of the publication, in an accessible and easy-to-use online research environment. At the heart of the Listener was the BBC's cultural mission to inform, educate and entertain the general public. Regarded as the premier cultural studies magazine of the mid-20th century, The Listener provides;
Transcripts from broadcasts such as King George VI's message to the British public at the outbreak of WWII (1939) and Prime Minister Atlee announcing the launch of the NHS in 1948;
Commentary on national news events such as the end of the second World War and the moon landings;
International news such as the revolutions in the Middle East including Egypt  1952), Libya (1967) and Iran (1979);
A platform for major 20th century writers such as Plath, Greer, Orwell and Larkin;
Coverage of cultural events from a post-mortem of The Beatles after their break-up in the 1970s to ground breaking reports on AIDS in the 1980s;
What is regarded as the toughest cryptic crossword in any weekly publication!
The Listener was a weekly periodical established by the BBC under its first Director-General Lord Reith in January 1929. Developed as the medium for reproducing broadcast talks – initially on radio and later on television - The Listener provides researchers with one of the few means of accessing the content of many rare early BBC broadcasts. The first decades of the Listener are particularly significant because live shows were not usually recorded, and tapes of radio shows were usually wiped.
As well as commenting on and expanding on the broadcasts of the week, The Listener also dedicated pages to major literary and musical programmes and regularly reviewed new books and films, providing insights into the critical reception of contemporary and popular culture. The online archive consists of the complete 62 year run of the paper, allowing users to search across 140,000 pages - all newly digitised from originals in full colour.
You can search this eResource through Gale Primary Sources which allows you to simultaneously search many other historical magazines and newspapers at the same time including The Times Literary Supplement Historical Archive.