The Times Literary Supplement Historical Archive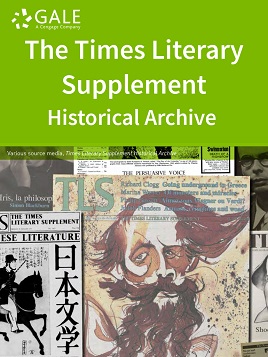 The Times Literary Supplement is the only literary weekly to offer comprehensive coverage of the most important publications as well as reviewing theatre, cinema, music and exhibitions. Founded in 1902 as a supplement to The Times (London) it would latter become a separate publication in 1914.
The Times Literary Supplement (TLS) is the world's leading newspaper for cultural studies.This unique fully searchable digital collection offers:
Over 300,000 book reviews covering: literature, history, politics, science, religion;
Features original work by some of the 20th century's greatest poets;
Reviews of the visual and performing arts – exhibitions, cinema, music, film, plays and theatre;
Letters, obituaries, adverts;
Essays and criticism in all subject areas from art to town planning;
Contributions from every region of the world. For example: essays from Mario Vargas Llosa, Joseph Brodsky and Orhan Pamuk;
Reviews of non-English language and translated books.
Since 1902, the Times Literary Supplement has forged a reputation for fine writing, literary discoveries, and insightful debate. The TLS has attracted the contributions of the world's most influential writers and critics, from T.S. Eliot and Virginia Woolf in the 1920s and 1930s to A.N. Wilson and Christopher Hitchens in the 1990s and 2000s. The complete run of the TLS from 1902 to 2014 is now available online as The Times Literary Supplement Historical Archive.
You can search this resource through Gale Primary Sources which allows you to simultaneously search several other historical newspapers at the same time including Punch Historical Archive.