The Telegraph Historical Archive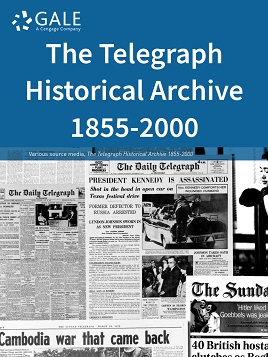 The Telegraph Historical Archive has over 1 million pages of content, from its first issue in 1855 to the end of 2000, including issues of The Sunday Telegraph from 1961 along with the various supplements.
Launched in 1855 as an affordable newspaper (it quickly cut its price to a penny, whereas The Times was 7d), by 1876 The Telegraph was the largest-selling newspaper in the world, with a circulation of 300,000. The newspaper was directed at a wealthy, educated readership and is commonly associated with traditional Toryism, despite its more "liberal" beginnings. However, this shifted in the late 1870s, when the newspaper began to support British Prime Minister Benjamin Disraeli over the Eastern Question.
The Telegraph Historical Archive covers a range of stories including:
The New Zealand Land Wars in the 1860's covered by a British correspondent
Krakatoa eruption in Indonesia in 1883
The Launch of the Titanic and coverage of ship sinking in 1912
Spanish Civil War 1936-1939
End of apartheid in South Africa and the release of Nelson Mandela in 1990
Fall of the Berlin Wall in 1989
The Telegraph also included many notable contributors, such as George Augustus Sala. One of the most famous journalists of the nineteenth century, Sala pioneered a more lively, personal style of writing and reported from all over the world. He is also celebrated for his coverage of the US Civil War. In addition, Sir Winston Churchill's first journalistic attempts were contained within the pages of The Telegraph, written when he was a twenty-two-year-old army officer.
The Telegraph was the first paper to publish a crossword in 1925 and in 1942 the newspaper published the cryptic crossword puzzle responsible for recruiting Allied codebreakers during the Second World War.
You can also search this resource through Gale Primary Sources which allows you to simultaneously search several other historical newspapers at the same time including British Library Newspapers.