British Library Newspapers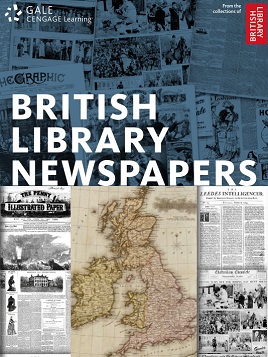 The most comprehensive range of regional and local newspapers printed in Britain from the eighteenth to twentieth centuries
Sourced from the holdings of the British Library, the collection is made up of daily and weekly publications and reflects Britain's growing role as a superpower in the 19th century world. It includes newspapers from the new industrial powerhouses of the Midlands, Scotland, Ireland and Wales and allows you to see monumental historic events, such as the total defeat of Napoleon Bonaparte, to daily news, such as the opening of the first electric tube railway or the construction of the English Channel. Genealogists will also be able to access material previously only available in London-based reading rooms!
With more than 160 newspaper titles, the series encompasses approximately 5.5 million pages of historic content, from articles to advertisements. British Library Newspapers illuminates diverse and distinct regional attitudes, cultures, and vernaculars, providing an alternative viewpoint to the London-centric national press over a period of more than 200 years.
Part I: 1800-1900: Ranges from tabloids like the Illustrated Police News to radical papers like the Chartist Northern Star;
Part II: 1800-1900: Expands the amount of regional newspapers. Towns and regions include: Bradford, Sheffield, York and North Wales. The addition of two major newspapers, The Standard and The Morning Post, helps capture the more conservative opinions of the nineteenth century;
Part III: 1741-1950:  Encompasses powerful news journals like the Leeds Intelligencer, local interest publications such as the Northampton Mercury, and specialist titles such as the Poor Law Union's Gazette;
Part IV: 1732-1950:  Includes what is possibly the oldest magazine in the World, The Scots Magazine, as well as regional perspectives from cities as diverse as Aberdeen, Bath, Belfast and Liverpool;
Part V: 1746-1950: Concentrates on the newspapers from the northern part of the United Kingdom especially Scotland and the Midlands. Scottish localities include Fife, Elgin, Inverness and Paisley.
You can also search this resource through Gale Primary Sources which allows you to simultaneously search several other historical newspapers at the same time including 19th Century UK Periodicals.